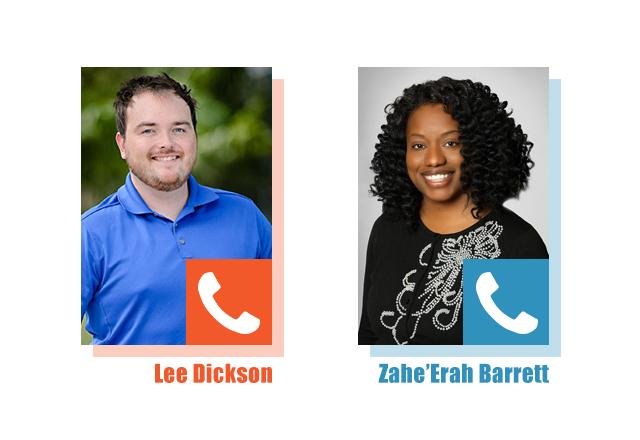 Real Estate Lead Generation: offrs.com & Zahe'Erah Barrett of Euphoria Realty in Dallas
Join Lee Dickson, offrs.com National Accounts rep, as he discusses the recent leads Zahe'Erah Barrett of Euphoria Realty received via offrs and how she locked them down with her team. It's all about identifying motivated leads, tenacity, patience and consistency...
| | |
| --- | --- |
| | Zahe'Erah, you've only been with offrs a few weeks now, but already, you've landed some solid business. Would you mind sharing your story with us and maybe giving a little background on you as an agent/broker starting Euphoria Realty? |
| | |
| | |
| | Sure! So, I started in real estate in 2007. I'm kind of the typical real estate agent. I didn't really know a lot of people here in the Dallas area - I'm originally from California. During that process, I was with a small brokerage, then moved on to Century 21 and worked with them. From there, I branched off and opened up Euphoria Realty on my own - which I actually started in... January of 2016. |
| | |
| | |
| | So, you and I talked a little bit about this before, but I'm curious about what it was that initially brought you to offrs. If I remember correctly, you were looking to improve your business, but tell me some things you identified and how you thought we might be able to step in... |
| | |
| | |
| | I worked with Zillow, Trulia and Realtor.com and they all give you buyer leads. They say they can give you seller leads, but really, they can't because they're not sure if they're going to sell or not. I know from experience that listings is what you want. Listings brings you buyers. I was looking for something to replace Zillow and Trulia. The more listings I have, the more buyers I have, the more business I'll have for the agents that I have. So that was the goal. I was attracted to offrs because it was targeted. Normally, when you're farming, you're thinking "Okay, I have to go out and mail to so many people..." and you're not sure if those people are really going to need your services. I've tried targeting certain types of people, like doing probate and stuff like that, but that really wasn't working. So, I felt that I needed a little more help. I started doing my research and that is how I found the offrs solution... |
| | |
| | |
| | You mentioned some of the other technologies you had used in the past as well as other approaches you took for targeted marketing. It sounds like targeting was a key to identifying where to focus your attention... |
| | |
| | |
| | Yes, definitely. Because time is valuable. I mean... I really, really... really don't have a lot of time and I'm seeing that I was wasting time going in different directions. So I believe that offrs is going to work for me in that area, as far as leads are concerned. And, that I'll be able to eliminate Zillow. I'm looking forward to it. I mean, with postage going up... did you know that postage went up this year? I said "Wow, that's amazing... I don't have to mail as many postcards!" And one thing that we started... I know that we just got some new offrs leads already, but I was sitting there and I was like "Okay, well I have a small area... we'll start with that," but then I thought "I can ask several of my agents 'who wants to commit to doing the postage?'" I was able to find two other agents to work with me on my zip code and what we've done is to divide the Smart Leads amongst each other. So now, I'm like "Okay, you're responsible for $130... so you know that bi-weekly, you're going to have to mail these people and it's only going to cost you $130 a month to do it. Can you commit to it?" They all they all, of course, agreed to it. I don't think we're gonna miss a beat with the opportunity we have in front of us. |
| | |
| | |
| | One thing you just pointed out there... as a broker, you're empowering your agents with a plan. You're not just going in there, guns blazing and figuring everything out on the fly. You put in place plan of attack that makes sense, but also one that isn't going to break the bank. As a broker/owner, I think are doing a great job, not only giving your agents something that can help them grow their business (and yours) but also empowering them build the teams' business together. |
| | |
| | |
| | Yes, definitely. Definitely. I believe that they're just as excited as I am. I know with our experience from last week, being that it was my first time signing up with offrs, I was anxious and excited. I wanted to jump in and see how it was going to work for me. Then I decided "Okay, let me go ahead and post this in my Facebook and see if I can generate some business..." and like I said, we got 2 leads almost immediately. But since then, we received several others - we received two really good leads in Lancaster. The first lead... I was just so excited, I put together my little package and I drove over to the house and I left the package there. The second one, I wasn't so sure if they received my email. At first, I just like, "Well, no one responded back..." I sent the information, I called, but I didn't get a response. So, one of my agents called and he said "Z, do you have anything I can do?" and I said, "You know what... why don't you drive over to this address? I sent her information yesterday and I haven't heard anything... why don't you just stop by and tell her that your broker wanted you to follow up and see if she's really in need or if she has any real estate questions - if she's considering putting her house on the market..." And lo and behold, that same woman was looking to sell her house. She didn't receive my email because she put her information into the system incorrectly. It was a good thing that I sent him out there to follow up for me. He calls me up right there in front of her, saying "Hey, she didn't get the information. Is there any way you can send it to me right now?" I resent it to his phone and he was able to go over it with her. Now she's looking at putting her home on the market and we're in the process of having the foundation company come out and give her an estimate. She doesn't have a home mortgage on it, so she has plenty of equity and she'll be able to list and sell. So that was just... really, really great. |
| | |
| | |
| | I think that this, again, is not just a testament to your agents and the tenacity there, but also your understanding that this isn't just about lead gen. Whether it's you working your own sphere or you going out and finding a service like offrs that can get more leads for you, it all comes back to the touch model, right? How much you try to make contact and really show that you're not just there for the transaction. So, you showed this homeowner "This is who we are and what we do," but also "Let me take the time out of my day and really show you that you're valued to me." If you don't mind me asking, what do you think her home might go for in your market there? |
| | |
| | |
| | Her house will sell for $165,000. |
| | |
| | |
| | So, looking at your investment so far... that's a great way to calculate your own ROI. "That just paid for offrs for the year..." |
| | |
| | |
| | I agree. |
| | |
| | |
| | And this new system you have in place is something you can replicate... |
| | |
| | |
| | Oh, definitely. |
| | |
| | |
| | One thing I was curious about... obviously it's still early on, but you're excited about what's going on here. What would be some things... whether it's offrs or just your understanding of how to market to people... what would be some things that you would suggest to agents that are looking to bring in technology to help their real estate business? |
| | |
| | |
| | Well, from my experience, don't expect it to work overnight. Everybody has different success stories. My number one thing is, it's going take 6 months to a year... and typically, with online leads, it can take 18 months to convert a lead. So you have to be patient and you have to be consistent. It requires a lot of follow-up and it's going to take a person 6 or 10 times before they actually remember you. You're going to have to do something that'll keep yourself in front of these people (especially if they've shown interest). If this is true, then there's a possibility they're going to list with you - they usually list with the first person that they see. So, from my own experience, working with online lead generation, you have to stay consistent. |
| | |
| | |
| | It sounds like tenacity, too... |
| | |
| | |
| | Definitely. |
| | |
| | |
| | It's taking action and being present... "That's what I'm here to do, that's the service I provide - I know there's value there, so it doesn't matter to me about trying to market to 2,000 people that don't want to hear from me..." It's all about finding the people with the highest motivation, who want to have a conversation, who have real estate questions. And that's how you build your sphere up and grow your business. |
| | |
| | |
| | Definitely! I agree. |
| | |
| | |
| | Zahe'Erah, I really appreciate you sharing your offrs story with us. But also your insights. If you need anything else from us, let me know, but in the meantime, I hope you have a great weekend! We look forward to hearing more successes from you and your team as your year continues to unfold! |
| | |
| | |
| | Thank you! You have a great day. =) |
| | |
| | |
offrs collects and provides topical insights, statistics, reviews, humor and best practices gathered from real estate professionals and consumer homeowner industry peers. If you're a broker or agent interested in learning more about seller lead generation or automated marketing services and solutions, visit www.offrs.com or continue to browse our growing collection of industry articles at www.offrs.net.
What are your thoughts?