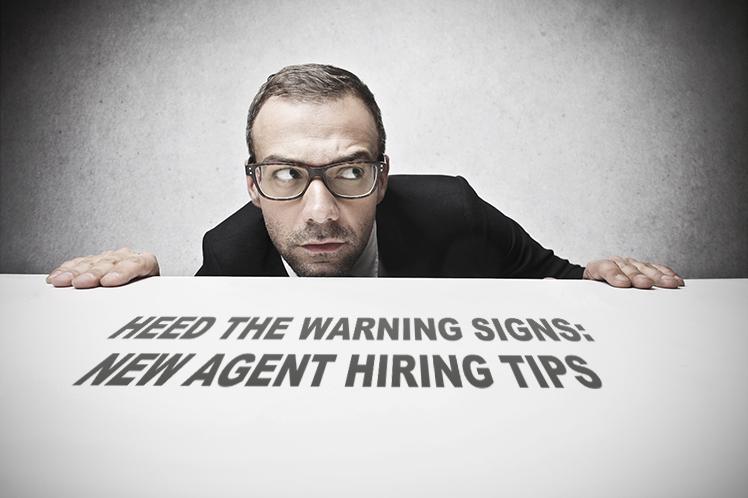 Heed the Warning Signs: New Agent Hiring Tips - offrs broker feedback and reviews
Hiring tips for brokers looking for the perfect agents to add to the team.
As seen on BiggerPockets...
Adding a qualified local agent to your team can increase productivity, add prestige, and hopefully boost profits. On the other hand, if you hire poorly, they may only offer headaches that work against your time, your team and even your brand. There are a lot resources out there for young agents looking to find the right broker to hang their license with, but how can you as a broker spot the warning signs and avoid taking on dead weight?
First off, you'll want to take inventory of your particular wants and needs (remembering that these are on opposite sides of the spectrum). Once you have what you're looking for, you can then begin to weed out those that work against your business goals. To help in that, here are some general warning signs to look out for when vetting new agents.
They Only Care About the Split
Obviously, there's much more to a broker/agent relationship than sales commissions alone. The expert training, exposure and sales leads that you'll provide offer huge value. This is not to say that you should offer the lowest possible commission to your new agents, but beware of newbies who still need a lot of training, yet ask for the highest commission.
They Exhibit Unethical Behavior
Naturally, clients are on alert when it comes to a new agent's intentions and focus - it might be good for you to hold a healthy amount of skepticism too. If an agent refuses to show for-sale-by-owner homes, lies about buyer interest, makes haphazard agent referrals or shows preferential treatment, you might have trouble on your hands. It goes without much saying that fabrication of their real estate license or track record is another obvious red flag.
They Are Late to The Interview
Time is money - for buyers, for sellers, for your team and for you. Showing up late for an interview or in-person meeting is a big hint that an agent may not benefit your brand. If they can't keep their appointments with you, they probably won't with clients, either. It doesn't matter how skilled a person is... if they don't show, they don't show.
They Are Always Switching Teams
Some agents have a track record of bouncing from team to team. Not being able to stay with one brokerage for a significant period may signal commitment, sales, or interpersonal problems. The time you'll take to train a new boot is valuable and not fun to do over again. Do yourself a favor and check into references and past work experience.
They Lack Communication Skills
This one should be a no-brainer, as dealing with people is a huge part of the job. Buyers and sellers expect their agents to be readily available. A good agent is likable, and communicates early (and often). They should be able to answer both simple and detailed questions clearly and calmly. If your agent prospect is bothered by the most basic of questions you have, then their clients are going to pick up on this too.
Your Marketing Strategies Don't Mesh
Consider the digital abilities of your potential new agent. If you're an old-school, in-office type of broker, you may not want someone who expects to work from home on their laptop all day. However, keep in mind that balance is good. Is the agent more accustomed to using DocuSign and email or do they prefer coming into the office to sign papers? With so many real estate marketing options available it'll pay to have a wide breadth of skills at your disposal.

They Don't Know the Area
Like you, your agents should have market-specific knowledge about your focus area. They should be familiar with local communities, from the crime rate to the proximity and quality of schools and shopping. They should also be aware of local financing options, plus mortgages, zoning and other regulations. There's always a learning curve and some agents will quickly bring themselves up-to-speed, but knowing the subtleties of an area and its residents will undoubtedly close more deals.

They Are Inflexible
The cold hard truth is, real estate agents are always on call. Despite setting your own hours, clients will sometimes need you on evenings or weekends. Look for someone who's willing to pitch in to accommodate clients or attend networking events.
Hopefully, this has been at least some help for you. If anything, it may serve to remind you of what you shouldn't have to butt heads against. What red flags have you put into place to help you find solid agents in the field? And have you had any agents turn the tables on your doubts? Let us know.
offrs collects and provides topical insights, statistics, reviews, humor and best practices gathered from real estate professionals and consumer homeowner industry peers. If you're a broker or agent interested in learning more about seller lead generation or automated marketing services and solutions, visit www.offrs.com or continue to browse our growing collection of industry articles at www.offrs.net.
What are your thoughts?