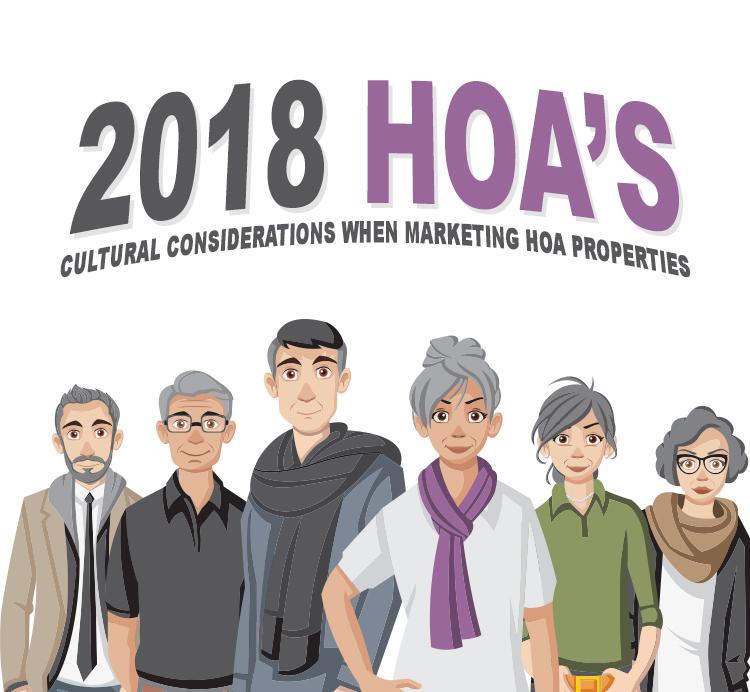 Cultural Considerations When Marketing HOA Properties - offrs.com reviews the client experience
At some point, all agents have to deal with HOAs and you can't be armed enough with helpful tips on navigating those waters. As we go into 2018, here are some things to consider and ideas on how to be a better advocate for your client's transactional happiness. Be sure to share...
As seen on RISMedia.com, here are...
Things to Consider When Marketing HOA Properties
With HOA (homeowners association) communities steadily increasing in number, chances are good that you'll serve a client who has to deal with them, either as a buyer or seller. For some people, they're are great, while for others, they're a hassle.
Therefore, it pays for you as their real estate advocate, to understand as many of the inner dynamics of HOAs as possible. While we can't cover every aspect in one post (there are a lot of great articles on HOAs already out there), we can give you some helpful considerations when it comes to your client's post-sale happiness (living with the decisions you've helped them navigate) and the effect this can have on your future business with them.
HOA Basics
First, a quick recap of the basics for new agents... A homeowners association is a group of property owners within a complex or community who are typically elected by all of the owners. These members comprise the board, which is the main governing entity of the community. The main purposes of an HOA are to maintain common areas and to create and enforce the rules of the community. Keep in mind that they are keenly sensitive to new owners that might destabilize the community's investments.
At regular meetings, the board and other owners can discuss major decisions and issues within the community. For major changes and expenditures, such as upgrades or repairs, all members of the HOA vote. The rules are known as "covenants, conditions and restrictions" (CC&Rs), and homeowners receive a copy of these when they move in. Buying into the community essentially includes signing a contract to follow the rules.
As a general rule of thumb, any property with shared common areas will likely be maintained by an HOA. Condos and townhouses are the most common HOA properties, but a freestanding single-family home in a neighborhood may also fall into this category, especially if there is a community park or if it's in a gated community.
Help Your Client Understand the Implications
To avoid future problems with an unhappy client, make sure to brief them on the basics of HOA communities and what it means to live in one. Most buyers these days have a pretty good idea of how HOAs work, but they may not have considered how HOAs rotate boards with newly-elected neighbors and the social effect this may have on their lives. If your client is seeking a hideaway retirement, current or future HOAs may end up drawing them into the very social structures they're seeking to stay clear of.
On the plus side, HOAs may enforce their lifestyle, ensuring that the community looks great and functions smoothly for years to come with little-to-no need for input. Advice to consider: HOAs are set in place to protect the common good, but members change over time and your current (or future) neighbors may contractually have more to say about your new home than you know.
Of course, this is the nature of communities and if you like the community as it is, you're likely going to like the course it takes as the years progress (barring any dramatic change in the charter). Be sure to do your research into the community you're dealing with in order to be able to answer more detailed questions. You can (and should) obtain a copy of CC&Rs directly from the homeowner's association or online.
Both you and the buyer need to be aware of how strict the rules are as well as how and how often board members are elected. Your client may find themselves with a whole new community 6 months after purchasing (and you don't want that phone call).
Important Things to Look Into
Nearly all agents have dealt with HOAs one time or another, but it's helpful to have peer insights to sharpen your tools with. So here are some tips to consider when dealing with HOAs and community transactions in general.
Check for any records of litigation by the HOA. Pending or past lawsuits are a bad sign, and they may even get your buyer rejected by the lender. It may be prudent to look fairly deep into the records too, as past board dealings (dating even decades prior) may speak volumes about the culture of the community... those board members may still be your neighbors. You may find that even HOA-sanctioned improvements to your home resulted in extra-HOA legal engagements between neighbors, ultimately settled one way or another with help from the HOA. A little research can speak volumes.
Find out what type of insurance the HOA maintains for liability, fire, flooding and other possible disasters. It may be a good idea to understand which areas are covered on the community grounds and who governs responsibilities for these areas. Everything may be peachy now, but a rare hurricane, tornado, earthquake, fire or flood might up-end those who haven't properly prepared by familiarizing themselves with their responsibilities in these cases. "Flood insurance? Yeah, we've got it covered! Except for the following parts of the community..." Lenders will also want to be assured that the community carries enough insurance coverage; many require a minimum of $1 million.
Investigate the assessment fee. The property owner will have to pay this monthly fee to the HOA to cover repairs and upkeep. In general, the larger the home is, the higher the fee. Fees typically escalate in accordance with available amenities. This is pretty standard, but another point to land home with your client is that the board may "necessitate" certain repairs hyper-proactively... perhaps more so than your client considers a priority. So if the common area roof springs a leak and it goes beyond the normal fees, your client may find themselves paying more. While the terms and details will be available in advance, the actual amounts won't be and occasional bursts in additional financial responsibility could happen.
Research the finances of the HOA itself. It should be setting aside money from fees collected to address any big repairs or emergencies that arise. If the HOA has no money in the coffers, that is a red flag on many levels. Is the current state of the common grounds and affairs fleeting (did you buy at the pinnacle of beauty before a stark decline in being able to keep it up)? Will future boards find themselves reeling from the investments this board or past boards have made (beyond the immediate, is the board in an inescapable death spiral)? Could you find yourself taking on an emergency board role in order to protect your investment? More than "is there enough for the future," financial mismanagement may indicate all sorts of issues for your client.
Think about whether your buyer is well-suited to the HOA model. They must be willing to be cooperative and part of a community. Sure, you can hide away, but as we all know, social dynamics don't often reward quiet lifestyles. If your client is a Type A personality or generally has a lot of questions and seeks a lot of input for decision-making, then they might not like being voted down to sit on the board and if they don't like the decisions made on the board, it might affect your referral-business with them down the road. Be an advocate now or "the reason" for their disappointing chapter in life later.
Maintaining Brand Integrity for the Long Haul
Some of these considerations might be a little overly-cautious (or even difficult to warrant diving too deep into), but in the end, protecting the buyer means protecting your brand and your business. If you're branding yourself as the area expert, then it couldn't hurt to at least be familiar with the sort of micro-politics that could come into play after the sale. At least the community culture for a new farm or territory you plan on expanding into.
Being able to explain the pros and cons at reasonable depth allows your
real estate marketing
efforts in the area and establishes you as a trusted expert. It could very well be your edge over other agents in the region. But for your client, it's not just about hard truths or even getting the best deal... whether they realize it now or not, they've got to live with the board.
Do you have any other tips on HOA culture? We'd love to hear what you've run into and how it's affected your referral business...
offrs collects and provides topical insights, statistics, reviews, humor and best practices gathered from real estate professionals and consumer homeowner industry peers. If you're a broker or agent interested in learning more about seller lead generation or automated marketing services and solutions, visit www.offrs.com or continue to browse our growing collection of industry articles at www.offrs.net.
What are your thoughts?