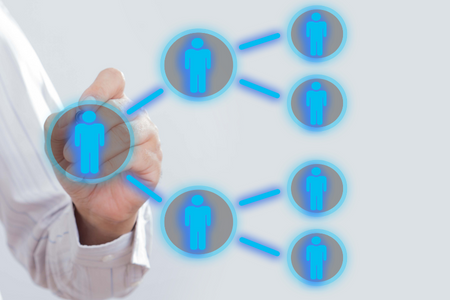 Building a Real Estate Referral Network
The referral network model is an effective way to build your business and reach more potential clients, while also ensuring that the people you work with get the best possible service.
Real estate is a competitive industry. You need to be able to distinguish yourself from other agents if you want to stay ahead of the pack. One way to do that is by building an effective referral network that can bring in new clients and provide valuable insight into the needs of those clients.
Identify your audience
Once you know who your ideal clients are and what kind of real estate business you want to run, it's time to identify your referral sources. Referral sources are the people who will become an important part of your network by referring clients to you. Examples include:
Previous clients

Other agents in your local area who share the same target market as you (typically based on geography or property type)

General friends, family members, and acquaintances who may have connections with potential clients
Identify your referral sources
You should have a list of your referral sources. If you don't, add that to your to-do list!
Identify the people who are most likely to refer business to you.

Consider how best to reach out and build relationships with these individuals.

Be sure that you are building up a strong network by connecting with them on social media and through other means as well as asking for referrals whenever possible.
Get to know them personally
Once you have identified your referral sources, it is important to get to know them personally. This will help you understand their goals, needs, pain points, and strengths/weaknesses. It will also give you insight into their resources and constraints.
If they are a real estate agent or broker (or even if they are not), the first step is to determine whether they are open to becoming a referral source for other agents or brokers in your network. If they aren't willing to work with other agents/brokers, then this may not be the right person for this type of relationship. But if that isn't an issue for them – or even if it was in the past but no longer is – then it can be worthwhile trying again!
Set up a referral tracking system
When you get a referral, the first thing you want to do is record it. If you're not tracking all of your leads, then how can you know which ones are working?
Create a spreadsheet and fill in all of the info as soon as possible. The most important things to track are:
Date and time of referral

Who referred them (the person's name)

Date and time of follow-up call (if applicable)
You should also keep track of whether or not they purchased your property and any other notes that might be useful later on.
Invest in the relationship
The best way to gain a referral is to invest in the relationship. Invite them out for coffee or lunch, ask them for referrals and testimonials, ask them for their opinions on a topic related to real estate, gather customer feedback, get ideas from them and so on!
Providing value to your referral base is key.
Your referral base is an asset, and the more value you provide to your clients, the more likely they are to refer their friends. If you don't give your clients a good experience and make them feel like they have a partner in real estate, why would they ever refer anyone?
Provide valuable information: Start by giving them educational material that will help them understand how real estate works. This could include books or even articles on sites like ours! If you can educate one client and build confidence in you, they may also recommend you to friends who might be looking for a good agent too.

Do what it takes: The next step is going above and beyond what other agents do with their clients. Offer services or create vendor lists that other agents may not offer.

Have patience with new leads: It can take a while before people start referring others once they've met someone new--especially if it's only been days since meeting each other for coffee! Give yourself time without getting discouraged about how long this process takes; eventually someone will come along who knows another person who needs help selling/buying property within six months time window from today.
Conclusion
The referral network model is an effective way to build your business and reach more potential clients, while also ensuring that the people you work with get the best possible service. It's important to remember that building this kind of network takes time, so don't expect overnight results!
What are your thoughts?