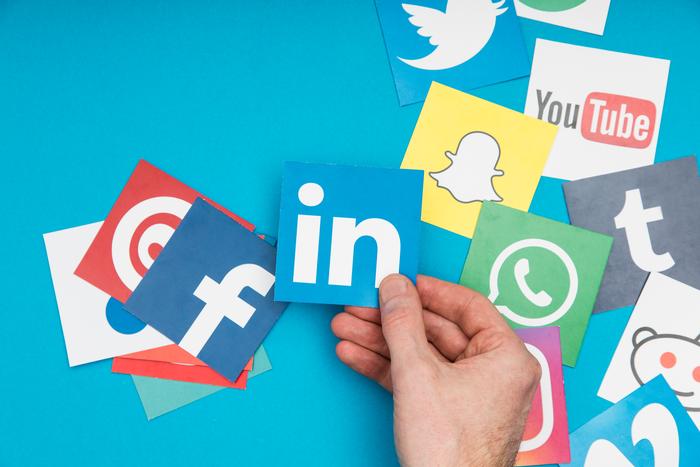 Your 2022 Real Estate Social Media Marketing Plan
Get more leads, grow your brand, and improve your farming results with a creative and comprehensive 2022 real estate social media marketing plan.
TikTok, Instagram, Facebook – where should real estate agents start marketing in the ever-expanding social media landscape? It's no secret that social media marketing holds huge potential for realtors that are willing to try new methods of generating leads. The results can be remarkable, as one NYC realtor discovered when she started using TikTok for showcasing new properties.
There are a lot of questions to answer when you first start marketing on social media, including:
What should your budget be?
Which social media platforms should you use?
What should you post, and how often?
What free or paid tools should you use?
We'll help you answer these questions and craft a simple, effective real estate social media marketing plan for 2022 with practical steps you can start taking today. You can easily integrate this social media strategy into your overall real estate business plan.
Grab your notepad and keep reading for our 3-part social media strategy to grow your real estate business, improve your farming results, and get your brand in front of prospects before competitors do.
Step 1 | Learn More About Your Geographic Real Estate Farming Territory
Social media platforms offer a wealth of information on target prospects or territories. Equipped with better information on who your prospects are, the surrounding community, and local developments, you can do a better job of tailoring your messaging and outreach channels.
As we outline below in step 4, social media is also the perfect place to monitor your competitor's marketing activities. We recommend at least the following 3 tactics to help you keep tabs on your specific farming territory:
1. Join neighborhood groups.
These types of groups will provide deep insight into specific neighborhoods, subdivisions, and communities in your farming territory. You can stay up to date on local events or issues, and you might even observe discussions among neighborhood members who are considering moving, or who are asking questions about the process (e.g., the sale price of nearby homes).
Remember that when you join these groups you're being accepted as an individual and a fellow community member. People will be turned off by immediate or repeated sales pitches or solicitations. The more genuinely and consistently you can interact and provide value, the better your brand awareness will be.
2. Follow local pages.
You can stay apprised of events that are worth attending by following pages for schools, non-profits, and local businesses. These types of gatherings are some of the best ways to meet new prospects and stay in touch with current leads.
3. Track your competitors.
How can you keep an eye on what other realtors are doing? Here's how: add them as a connection or follow their business pages. You can carefully watch their advertising, engagement, new listings, and overall social media presence to tweak your efforts and stand out.
Step 2 | Grow Your Brand Awareness
Your real estate business won't automatically grow just because you start using social media. Like any business, social media will end up being one of many ways that you engage with and reach potential clients. Social media alone won't usually produce enough leads, and you'll need to be intentional about promoting your message, growing your network, and thoughtfully interacting with leads.
Here are some of the best ways to get your brand in front of more buyers and sellers on social media:
1. Consistently add new connections.
Have you ever wondered how agents who are successful on social media garner such large followings? It didn't happen overnight, and it didn't happen without work. Plan to spend at least 1-2 hours a week proactively adding new connections on social media platforms. If you've already joined neighborhood groups then you'll have a headstart on which people to add. Continually adding new contacts on all platforms will help you reach hundreds and thousands of new contacts every year. Plus, this tactic is completely free!
2. Create a business page.
Give your brand a little more legitimacy and visibility with a business page or account (depending on which platform you're using). When setting up your business page, make sure you fill out each section of the profile – this is key for discoverability and giving visitors the information they want. Social media business pages can rank on search engines, and users can easily find your page on the platform when searching for local businesses and service providers.
Business pages are a great place to feature content like new listings, client success stories, recently sold properties, and positive customer reviews.
3. Do social media advertising.
Even if you don't have any experience with advertising, social media is a good place to get started. For a relatively low monthly budget, you can easily experiment with different types of ads and messaging.
To help your ads stand out, experiment with various messaging and offers, including:
Ad copy.
Ad images.
Ad colors.
CTAs.
The better your offer, the more likely you are to convert interested leads. For example, offering a free, custom home valuation or helping cover inspection fees for listings will make you stand out. Once you find ad versions and offers that work, don't be afraid to dial up the budget on monthly advertising.
Although your initial monthly budget might be low, FB ads are getting more competitive, which means you need to make sure that campaigns are set up properly, and that you're combining them with organic efforts. Tools like SmartZip can make ad setup and campaign management a breeze, with an easy dashboard for creating and launching your first ads to a targeted audience on social media sites and search engines.
Step 3 | Engage Prospects
With ads running and a growing network, you'll see a significant uptick in traffic to your business page and website. The last step to your social media strategy should be to engage with prospects. For this step, focus on staying in front of prospects for the right reasons, which means:
1. Adding value.
2. Being genuine.
3. Avoid self-promotion.
If you're somewhat stuck trying to come up with the right approach or content, here are a couple of ideas to jumpstart your creative process:
1. Run contests. People love limited-time offers, gift certificates, or high-value giveaways. Run a few tests to see what gets the biggest response, then make these contests a regular part of your posting and activity schedule. You can also point prospects to your social media profiles and encourage them to follow you there for frequent giveaways – which is a great incentive!
2. Post consistently, and aim for 3-5 times a week on average. Don't feel pressure to be online all the time, or to post 10 times a day. Take time on a weekly or monthly basis to plan content ideas. You can use tools like BuzzSumo or the trending sections of social media platforms for ideas. Some social media platforms have built-in scheduling capabilities for organic posts. This means that you can create all of your posts at once and schedule them to go out on future dates.
3. Offer value-add content. Showcase your detailed knowledge of real estate and the local market by sharing insights, data, and customer success stories. People want to work with realtors they trust, and demonstrating your expertise is a great way to build trust through social media.
4. Accept chats on your business page. People are more comfortable than ever using social media to connect with businesses. Chat can even feel less formal than website forms or phone numbers – especially to younger prospects. Be sure to check your messages often and respond promptly.
Social Media Marketing FAQs for Real Estate Agents
The sections above address social media strategy for 2022, but we realize you might have more questions about specific platforms and tactics. Below, we've answered some of the most frequently asked questions about social media marketing for real estate agents:
1. What social media should real estate agents use?
The answer to which social media platform is best for real estate marketing depends on your location, the age of your ideal buyer (and income range), and how comfortable you are with learning new tools. Facebook and Instagram still have some of the largest and most consistent user bases of any social media sites, and they allow you to use highly visual posts that feature new properties. For those reasons, we recommended starting with at least Facebook before moving on to other platforms.
2. Is social media important for real estate?
Yes. With billions of active users around the world, social media platforms offer enormous opportunities for lead generation. A sound strategy, consistent approach and yield substantial results.
3. How do I market my property on social media?
Marketing new properties on social media are fairly simple. Using free design tools like Canva, you can easily add photos and text to your posts. A well-designed post with a link to view the property is a great way to drive traffic back to the listing on your website.
4. How much should I budget for social media real estate marketing?
Social media is easy to start for free. If you plan to do advertising, you don't have to commit to an enormous budget. Start with a small amount like $50 - $100 per month until you find a strategy that works.
What are your thoughts?