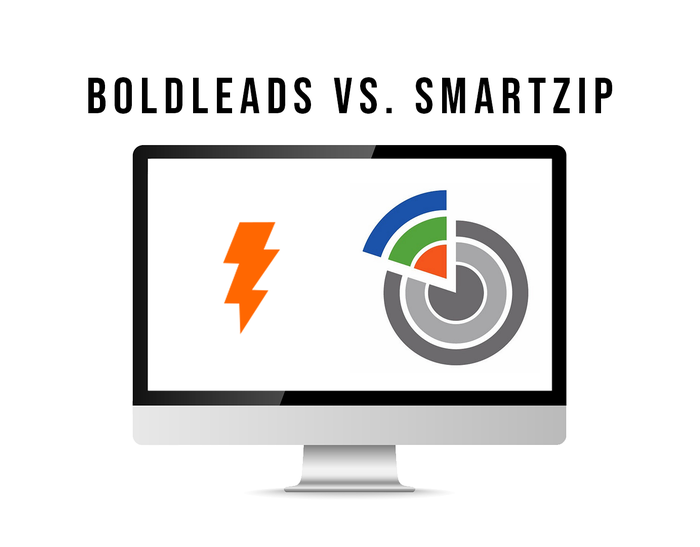 BoldLeads vs. SmartZip: Which Real Estate Lead Generation Software is Best for You?
We evaluate the features, advantages, pros and cons, user reviews, and more for BoldLeads and SmartZip in this full comparison article. Read now!
The days of traditional real estate lead generation aren't gone, but the industry has changed. Now, agents can choose from several real estate lead generation software companies to help them find, reach, and convert home buyers and sellers.
In this article we'll look at two of the leading services for sourcing real estate leads: BoldLeads and SmartZip. We'll review the core features of each platform, evaluate their pros and cons, and provide perspective on what it takes to be successful with either service.
Our goal is to help you understand which lead generation service best meets your needs and, ultimately, which one is worth the investment of time and money to grow your business.
Our Comparison Summary for Each Real Estate Lead Generation Software
While SmartZip and BoldLeads might seem similar at first glance, there are a few key differences that could affect your decision.
BoldLeads focuses on delivering a "done-for-you" lead generation approach and basic CRM functions, while SmartZip offers a suite of marketing and data tools designed to make your real estate farming efforts more productive and targeted both now and in the long term.
Two key differences between BoldLeads and SmartZip are how they source leads and the quality of data provided to their clients. BoldLeads uses digital ads to source potentially interested buyers and sellers by targeting prospects based on their geography.
Advertising can be an effective way to source new business, but the type of "plug and play" advertising offered by BoldLeads doesn't always produce the best leads.
BoldLeads can target potential leads based on demographic information available in the ad networks that they use (e.g., Google, Facebook). But, so can every other agent and real estate lead generation service.
SmartZip aggregates the same type of demographic information and combines it with proprietary predictive analytics tools and other big data sources, ultimately providing a competitive edge that produces better results with less marketing spend.
SmartZip has an advanced algorithm that uses artificial intelligence to find leads that are 70% more likely to list their home. This data and the corresponding market insights make farming much more effective and focused.
Before making a quick judgment call, we recommend reading the full article to learn the advantages offered by both providers and determine which real estate lead generation company meets your criteria.
What is BoldLeads?
BoldLeads is a real estate lead generation company that provides various advertising, marketing, and CRM tools to help agents source new prospects.
BoldLeads Offers Done-for-you Lead Generation & Nurturing
Pros
BoldLeads' process is fairly hands-off until agents receive a new lead's information. This means that agents can rely on BoldLeads to initially set up and manage advertising campaigns. Once leads are received, agents can choose the best method of follow-up and it's up to them to ultimately convert the lead.
The BoldLeads marketing platform combines multiple forms of outreach (e.g., email, text, etc.) to help agents nurture potential leads. Bringing these communication channels into one platform makes it easier to manage, monitor, and maintain ongoing conversations.
BoldLeads users cite the following as primary benefits of the platform:
Leads are exclusive for each agent's territory.
The BoldLeads CRM has multiple tools for automated follow up.
Cons
If "done-for-you" lead generation sounds a little too good to be true, that's because it often is. Before deciding to work with any real estate lead generation company you need to understand how they classify a "lead."
BoldLeads considers a qualified lead to be essentially any contact that has filled out a request for an automated home valuation. Many "leads" are simply curious looky-loos who want to know the value of their home. The prospect might be considering selling; they might be considering a home equity loan - or they could simply be interested to know the market value of their home.
Direct contact features like the "text concierge" can help you further qualify and narrow your focus on the right leads, but promises to maintain high lead volume of quality contacts are almost impossible to fulfill.
How Does BoldLeads Generate Leads?
BoldLeads generates new leads by running Facebook ad campaigns to specific geographic regions. Leads are offered a free home valuation in exchange for providing their address and contact information. These leads are sent to specific agents for follow-up and nurturing depending on their actual level of interest.
While it is convenient to have a company manage all of the ad creation and campaigns, it is worth noting that BoldLeads customers don't have creative control over the ads, and they won't be able to see which ads converted leads. The real advantage, however, is that users can rely on BoldLeads' expertise with ad optimization, which takes a long time to learn and even longer to master.
Facebook Ads
While Facebook ads can be an effective way to reach potential buyers and sellers, many users are simply interested in obtaining their free valuation. This data can then be passed to realtors and called a "lead," even though the prospect doesn't intend to sell their home. The ads are fairly generic, and they often appear to be from an account titled "[City] Real Estate Market."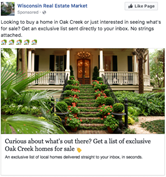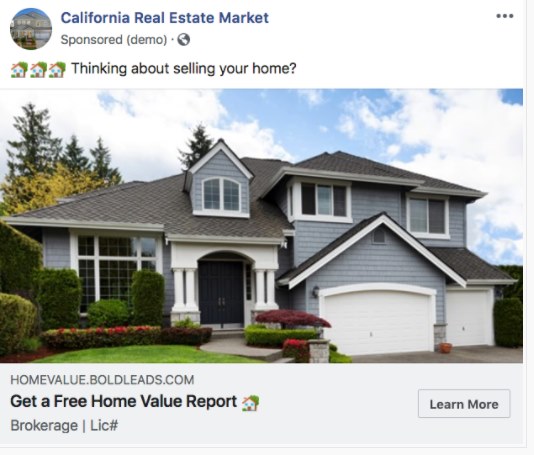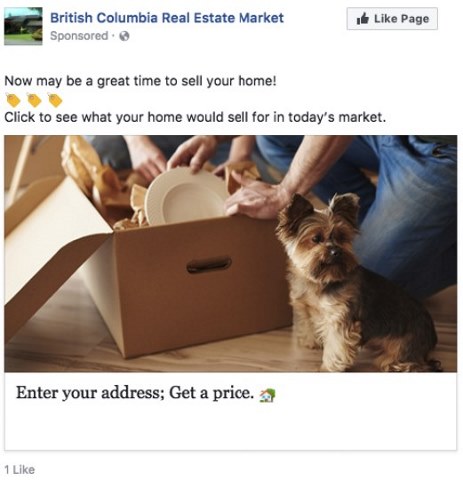 Images Credit: BoldLeads
Leads are generally offered two different kinds of valuation: one as a single price, and the other with additional information on the broader real estate market. These options are described further below:
An instant valuation, which is displayed directly on the landing page after the lead inputs their information.
A comparative marketing analysis (CMA), which is sent to the contact as an attachment via email and shows a detailed analysis of recently sold homes within the same area. The agent's contact information is included in the email.
According to BoldLeads, there is no clear answer to which CTA is better at producing leads, but they do provide detailed examples of the instant valuation and comparative market analysis. You can read more about the difference between these options here.
Lead Nurturing
One of the hardest aspects of relationship-driven sales is remembering to follow up at the right time and in the right way. BoldLeads does offer users the ability to create custom nurturing sequences and set tasks, which are key features of any effective CRM.
The CRM will monitor prospect activity like email opens or replies to determine their level of interest and help prioritize leads.
Direct outreach capabilities through BoldLeads include the following:
Automated text messages with pre-built templates.
Text concierge (BoldLeads staff will conduct scheduling on your behalf).
Automated voicemails.
Nurturing funnels.
Mass email and text campaigns.
Pre-made landing page templates.
BoldLeads Reviews
User reviews of BoldLeads tend to be average, with some agents purportedly finding significant success on their platform. Recent reviews of BoldLeads indicate that the quality of leads provided to customers have been sub-par. You can find BoldLeads user reviews on a number of websites, including Hooquest and G2.
BoldLeads is the best fit for:
Small brokerages.
Single agents.
What it will take to be successful?
To increase your chances of success with BoldLeads, you'll need to be prepared to tackle the following:
Plan to spend extra money on advertising costs, not just ad management. Ad spend can comprise 50% (or more) of your monthly costs.
Many users note that it can take time and technical knowledge to fully utilize their software tools (e.g., the email and text platform, website integrations, etc.).
Agents in less competitive regions may find that they receive more leads than those in highly sought-after markets. Why? There are fewer agents using Facebook and Google advertising in less populated areas, and they aren't quite as savvy as the campaigns managed by BoldLeads. In more competitive regions, other agents and real estate lead generation companies will also be aggressively running ad campaigns.
___________________________________________________________________________________
What is SmartZip?
SmartZip is a real estate lead generation and predictive analytics company that uses big data to help agents increase their listing leads through smarter real estate farming. Unlike companies that simply run ads or help agents do cold-calling at scale, SmartZip uses artificial intelligence and unique data sources to analyze homebuyer data and identify exactly which leads are most likely to list.
SmartZip offers 3 different services to help agents conduct more targeted marketing and produce better prospects through multi-channel campaigns, including direct outreach, mailings, and referrals.
Smart Targeting
Designed to help agents capture more contacts and move them through the listing pipeline, Smart Targeting is a data-driven lead generation platform that makes real estate farming more effective. From within the platform dashboard, users can easily track their sales performance, monitor leads, outline a precise farming territory, view sales activities, and prioritize next steps.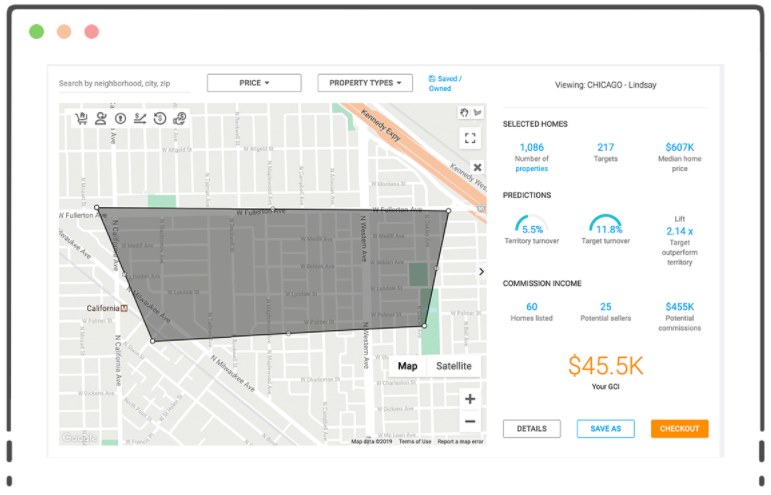 Image Credit: SmartZip
Marketing activities can also be automated from within the platform to ensure that agents don't miss a step in their outreach. When paired with the CheckIn app, Smart Targeting provides agents a full-scope view of prospects, including detailed information on their activity and prior contact.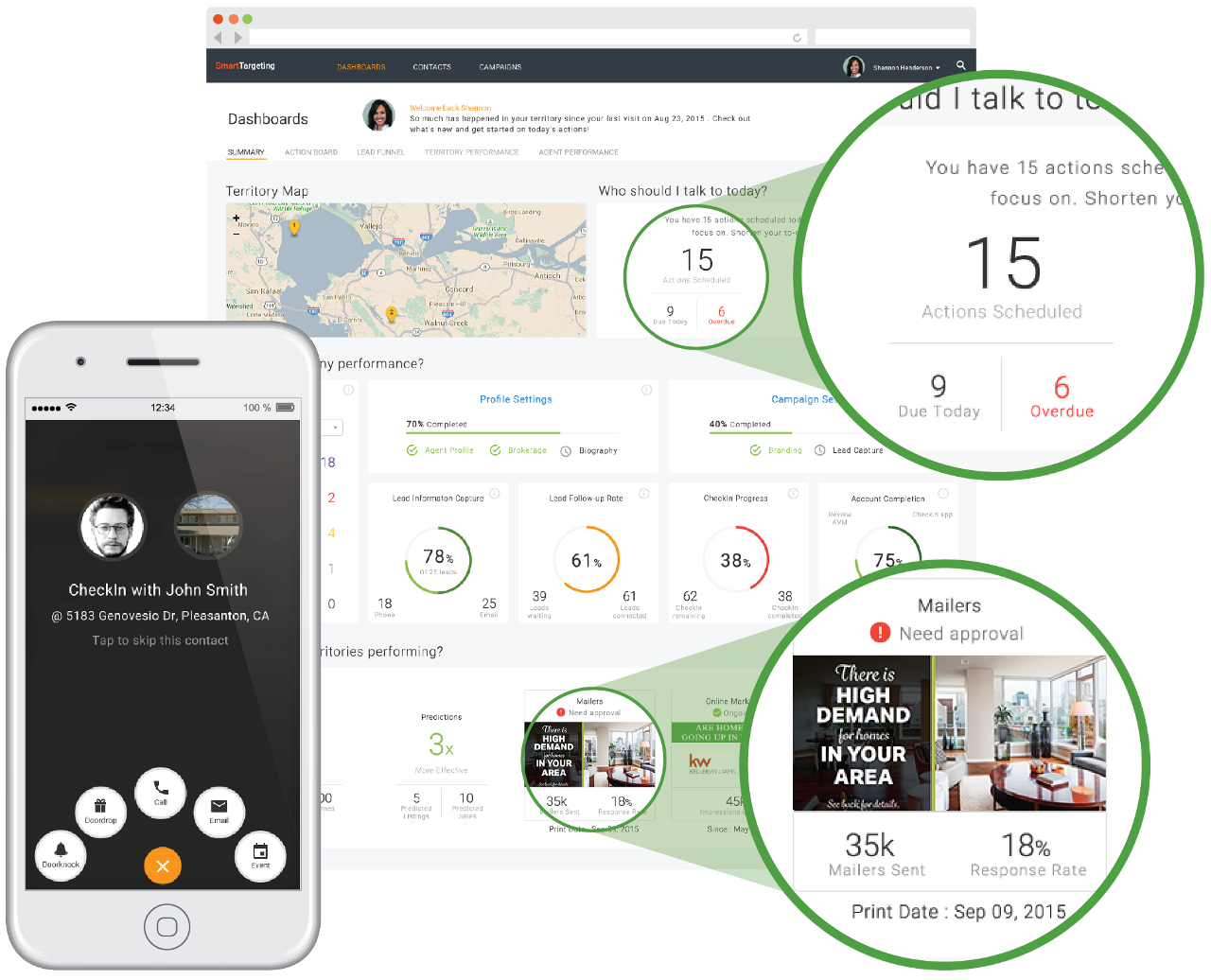 Image credit: SmartZip
The Smart Targeting service includes customized and branded marketing assets like landing pages, mailers, and websites that are used to create unique campaigns and reach specific leads. Digital ads can be used to keep your brand in front of a very specific and highly qualified audience of potential leads. Agents don't need to have any prior digital advertising experience to use these tools. The Smart
Targeting platform allows anyone to easily launch targeted advertising campaigns online through Google, Facebook, and Instagram with just a few clicks.
Customizable landing pages are used in advertising, email, and direct mail campaigns. The call to action on landing pages ranges from direct requests for a home valuation to softer marketing efforts like content assets. The automated valuation models provide an accurate quote to visitors and help agents understand if prospects are interested in listing.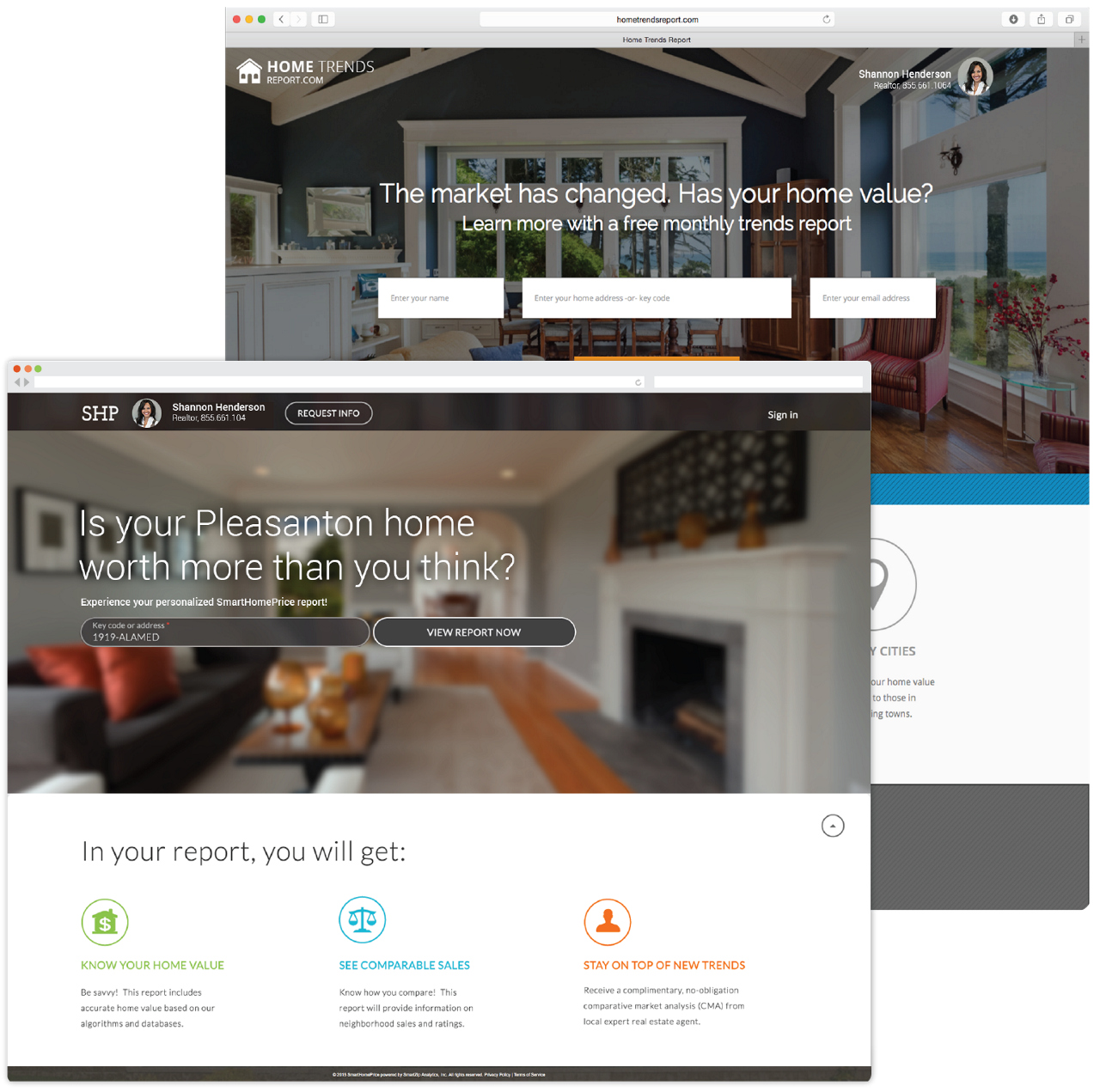 Image Credit: SmartZip
Reach150
Most home buyers and sellers still choose their realtor based on the recommendation of a friend or family member. Reach150 lets agents expand their word-of-mouth reach by turning positive reviews into content that can reach prospects across the web. This positive reinforcement helps position agents as the preferred choice.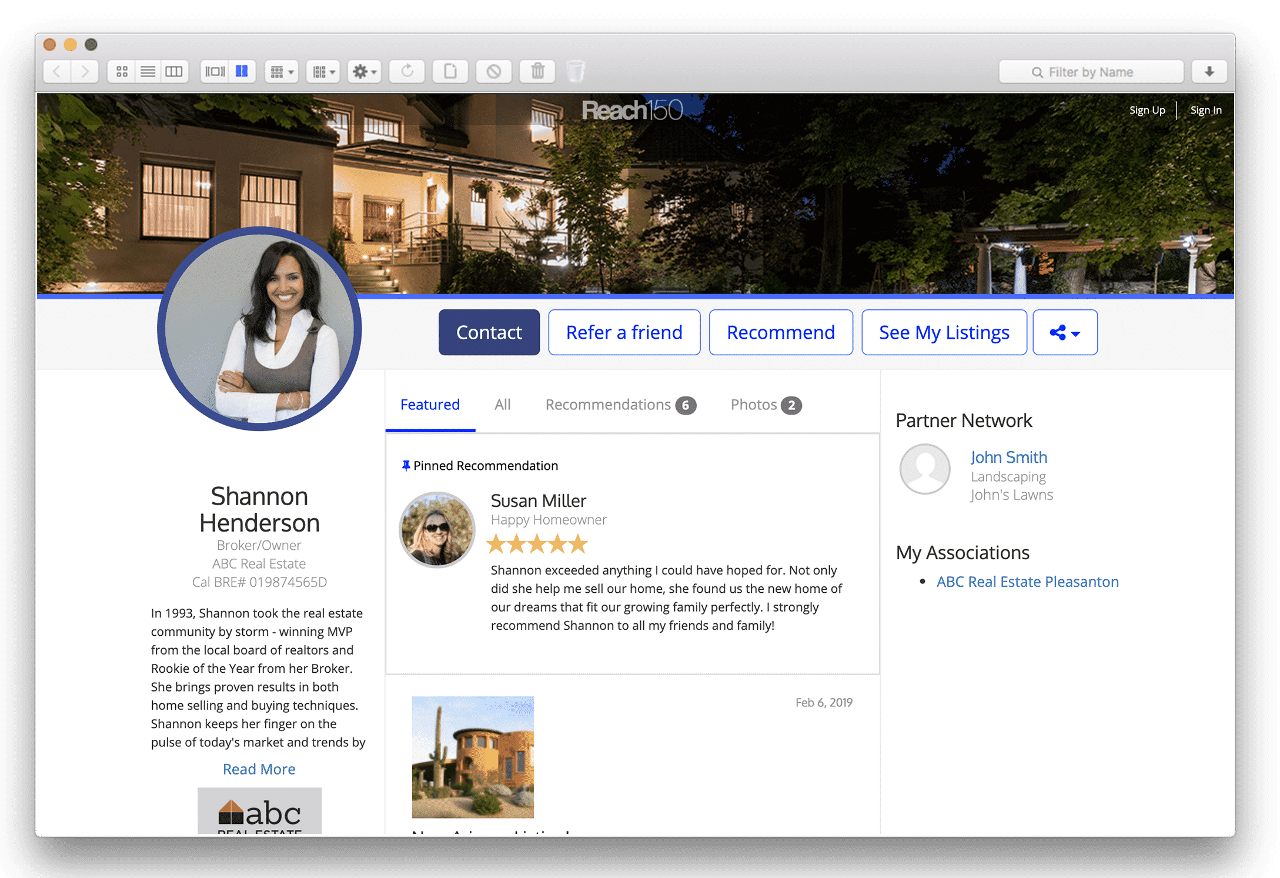 Image Credit: SmartZip
Specifically, Reach150 helps agents in the following ways:
Easily create an optimized website where reviews can be shown to specific visitors (e.g., those who are being nurtured in your pipeline).
Prompt existing clients to make a referral.
Collect reviews from existing clients.
Promote positive reviews across the web on advertising networks, your business website, social media, and more.
Smart Data
Data is the cornerstone of all successful marketing efforts. SmartZip has built their tools based on the belief that better data will produce better results. As one of the largest real estate data aggregators in the country, SmartZip is perfectly positioned to give agents a goldmine of valuable information on listing leads.
How big of an opportunity is big data?
When combined with predictive analytics (i.e., Smart Targeting), SmartZip was able to accurately predict 72% of listings in the United States last year.
This data is available either through Smart Targeting or via an API.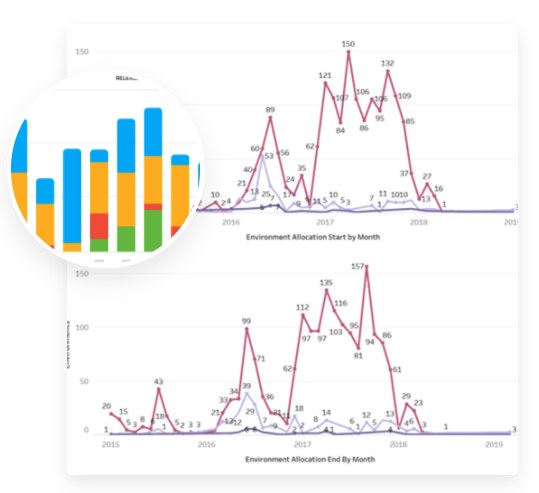 Image Credit: SmartZip
Unique SmartZip Features
Data
The incredibly powerful combination of big data plus proprietary algorithms is SmartZip's leading differentiator. Using predictive analytics, agents can focus on the top 20% of their market, not the bottom 80%.
SmartZip collects over 25 unique data points on target real estate prospects, including:
Total time in home.
Number of residents.
Home appreciation.
Consumer habits.
Age of home.
Loan status.
This data (and other sources) helps SmartZip's predictive analytics accurately estimate the likelihood that someone will list their home. In fact, agents can even see how accurately SmartZip predicted listings over the prior 12 months. This objective measurement provides a reliable indication of the opportunity in a specific geographic area.
Multi-Channel Marketing
Many real estate lead generation companies offer marketing solutions, CRM capabilities, and ad management. However, while other providers fixate on digital marketing solutions, SmartZip incorporates a more holistic multi-channel approach that incorporates effective traditional outreach methods.
Agents can select from hundreds of predesigned (and proven) templates for postcards, handwritten notes, flyers, and other traditional marketing materials. Sophisticated and fully-branded direct mail campaigns can be created and sent to a targeted prospect list in only a few minutes.
Campaigns can be auto-scheduled and sent in a recurring sequence, or set to occur at a specific date in the future. This flexibility gives agents full control over the prospect's experience.
SmartZip Advantages
Don't waste time and money marketing to leads that don't plan to list.
Agents need to focus their marketing efforts on the right people. Knowing who to target means that agents can either eliminate or significantly reduce the amount of time that they spend on marketing campaign creation and management.
The advantages are significant:
Focus marketing spend on the right efforts.
Define a precise farming geography.
Understand the exact performance of your farming activities.
Conduct in-person sales activities (e.g., door knocking, phone calls etc.) to the prospects that are most likely to list.
SmartZip users can even upload their list of prior contacts into the Smart Targeting platform and easily add them to the targeted advertising and marketing campaigns.
Trust the data
Lead generation services are often unclear about where their data comes from, leaving agents to wonder how it's actually sourced and used to generate phone calls or online inquiries. With SmartZip, agents get clarity on where their data comes from, how it's sourced, and why it's valuable.
Lead lists created with SmartZip tools are automatically updated to reflect the most current data, meaning that prospect profiles are continually monitored for accuracy. This saves agents a lot of time and effort that could be spent pursuing bad leads.
Multiple ways to engage with leads
Instead of simply providing leads with a single home value estimate, SmartZip gives agents several ways to continue engaging with clients to nurture their interest in potentially listing a home. Agents can use the Smart Targeting tools to control a prospect's experience on a specific landing page, and they content they receive as a follow-up.
Some of the unique content and engagement options that agents can choose include:
Providing a full comparative market analysis.
Letting leads subscribe to monthly local trend reports for their area.
Giving leads the opportunity to name their selling price.
Interactively adjust their home value online based on factors like home improvements, etc.
SmartZip Reviews
Head over to Featured Customers to read real case studies from satisfied clients that discuss their actual results.
Image Credit: SmartZip
SmartZip also has several featured reviews from clients like Keller Williams, which you can watch on their YouTube channel.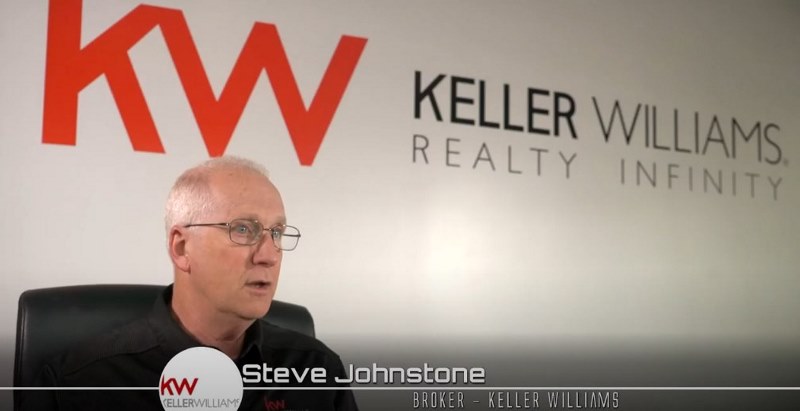 Image Credit: SmartZip
SmartZip is the best fit for:
Small and mid-sized brokerages.
Single agents.
Enterprise clients.
What it will take to be successful?
The reviews above show success stories from agents who have experienced excellent results with SmartZip products.
What sets these agents apart? How have they managed to grow their lead generation programs?
Here's our advice:
Be prepared to keep in touch with leads that are brought in through marketing efforts. Even though SmartZip data is shown to accurately predict a higher volume of listings, leads could be several months away from listing.
SmartZip products can enhance, amplify, and bolster the farming efforts of agents who are already conducting farming. Or, for agents who are just starting their career, it's an excellent way to ensure that they are spending time in front of the right leads. Either way, farming should be part of your growth plans.
You'll need to select a specific geography to farm, and have an understanding of where the areas of highest opportunity are. Luckily, the Smart Targeting program can help you quickly identify these areas.
If you're planning to dedicate time and resources to farming a specific area, SmartZip will help improve your results.
Try Today
If you're interested in trying SmartZip, take advantage of the free demo and pick exactly which products you'd like to see.
Features Comparison of Both Services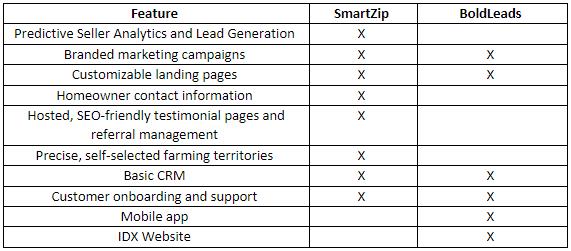 What are your thoughts?