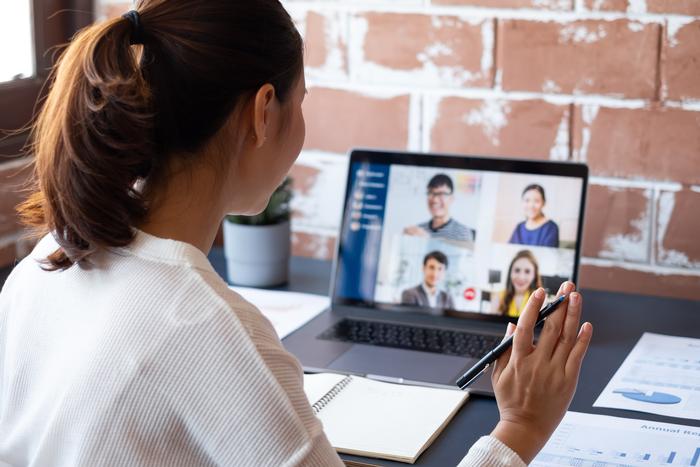 Real Estate Agents Concentrate More on Virtual Buying and Selling Service amidst Pandemic
Real estate agents across the U.S. are adapting to technology and tools to reinvent their business and create virtual buying and selling services. Here is a quick review of how and tips to get started. Tags: virtual buying and selling, real estate agent
Real estate agents adapt to the virtual buying and selling services to cope with a new era of the virtual real estate domain.
The real estate buying and selling sector has taken a devastating blow in the U.S. market due to the COVID-19 pandemic. The real estate agents wish to work, and there are properties ready for renting or selling. However, the lockdown has brought the entire industry to a screeching halt.
On the other hand, losing a job or facing pay cuts has made many buyers re-evaluate their finances and find a home they can afford to live in. Thus, it is ok to say that there is a demand.
Thanks to the digital world, that proved to be a silver lining for the real estate agents. And they turned to virtual buying and selling services during the pandemic.
How does Virtual Buying and Selling Work
Whether you are a real estate agent or a buyer, you can now get the first glimpse of potential properties via smartphone cameras. There are several virtual viewing and conferencing apps such as Zoom, FaceTime, etc.
Real estate agents can now use 3-D modeling tools to create virtual walkthroughs that you can replay anytime from any angle. This innovative method allows you to refurbish an empty virtual space with fixtures and furniture to see how it will look in real-time.
The COVID-19 pandemic has turned virtual and augmented reality tools to be de-facto for real estate agents, to say the least.
Virtual Buying and Selling is Here to Stay
If you are a real estate agent still on the fence about whether virtual technology is for you, the answer is, it is inevitable. The customers' and clients' changing behavior may outlive the pandemic. So, if you are a real estate owner, operator, or agent, you must think ahead of time to get an early bird advantage.
The unpredictability and uncertainty surrounding the COVID-19 make it hard to say how it will affect the supply and demand in the times to come. Therefore, you must make the most of it while there is time.
How Virtual Viewing is Aiding the Real Estate Agents
Video calls are one of the most commonly used technologies during the pandemic. No matter which sector you belong to, video calling apps and software help millions work remotely.
That said –video calling services have proven to be far more effective and productive for real estate agents. If a buyer or seller cannot come out, you can now take the property to their living room. As a real estate agent, you can show numerous properties to your potential clients in real-time.
Not only video calls, but there are also many other options you can use. For example, you can create virtual buying and selling services on your own YouTube channel, Facebook Business Page, Instagram stories, Snapchat, and TikTok.
Thus, you can go live on Facebook or Instagram and host a virtual open house. This is free of cost, and customers will love the proactive approach where they can still avail of your services from the comfort of their homes.
As the buying and selling process moves ahead, you can use virtual apps such as Zoom video conferencing to have a one-on-one with your clients. This way, you can share screens, discuss analytics and data, and share proposals, etc.
According to the National Association of Realtors (NAR), 35 percent of real estate agents see their clients rely on virtual tours during the pandemic. Therefore, if you have not taken any steps toward the virtual buying and selling services, you are still not too late.
5 Tips to Deploy Virtual Buying and Selling Services for Real Estate Agents
Here are some tips to get you on the road to the virtual real estate industry.
1. Creating Virtual Viewing
All you need is a smartphone camera and the property you wish to showcase to your clients. Visit the properties to shoot a video from all angles, covering the entire building in an organized manner.
Think of it as a walkthrough if a client was visiting the property physically. You can then upload these walkthroughs on your social media pages, YouTube channels, and website.
2. Organizing a Virtual Open House
Virtual reality is your best friend amidst pandemic. You can efficiently and conveniently organize or host a virtual open house to showcase a seller's home to potential buyers. Everything about a virtual open house is similar to a traditional open house, except that the buyers will be live online instead of being physically present.
You can use Facebook Live, Zoom, Skype, and several other apps and services for free. Not only can you show the properties live, but you can also communicate with everyone attending the virtual open house and answer their questions.
3. Hosting Real Estate Webinars
If you are a real estate agent looking for a way to optimize your digital marketing strategy, launch a webinar series online. This is one of the best ways to offer free highlights and knowledge to the new and existing clientele about the development in the local real estate market.
This will keep you on top of their mind the next time they wish to seek someone to buy or sell a property.
4. Starting Blogs and Podcasts
If you are a tech-savvy real estate agent, why not start your podcast or start a blog. Not only will it bring you a lot of recognition, but it is far more convenient to do a podcast than to make a video.
However, it is a long-time commitment, and you should be consistent. Once you have a following of potential buyers and sellers, they will expect consistent content from you.
5. Virtual Business Networking on LinkedIn
Most real estate agents undermine the effectiveness of virtual business networking on LinkedIn. However, this has to change. If you are a real estate agent, you need connections in the market to garner more clients. And the physical world in a freeze due to pandemics leaves you no choice but to avail of all virtual platforms.
Therefore, create a LinkedIn profile, list your skills, and add professional info. Ask for endorsements and references from past clients. Most real estate home buyers, sellers, and investors rely on LinkedIn to find real estate agents to verify their expertise. So if you are not on LinkedIn, what are you waiting for?
The Take-Away
Changing supply and demand needs, consumer behavior, and trends prove to be a catalyst for pushing the real estate industry to adapt to virtual technology. If you are a real estate agent, you must concentrate more on virtual buying and selling services to increase your chances of success.
What are your thoughts?