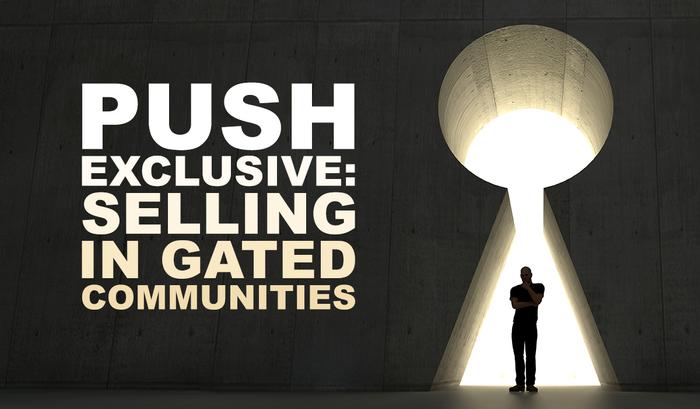 Real Estate Marketing Ideas: Selling Homes In Gated Communities - offrs reviews
Real estate marketing ideas can sometimes be hard to find for gated communities. If you haven't yet had experience of listing a property within a gated community, then here are some real estate marketing ideas that might help you along the way. Let's review...
Even the world's top real estate marketing experts hesitate to give the final sign-off on real estate marketing ideas, advice or tips on marketing your real estate business. But we'll give it a go. ;) When people normally hear the term "gated community", they may think of a neighborhood dominated by high incomes or one with lots of amenities and manicured grounds. The term carries a certain degree of prestige and can be a top marketing point for some home buyers. If you know how to do it right, marketing and closing on listings in gated communities can be lucrative. However, the advantages also come with their own challenges. Let's explore some of the subtleties that might just make you more effective at marketing real estate in these exclusive neighborhoods.
Learn to market real estate in today's real estate market...
Okay, so it may not seem like it, but real estate marketing has become a fairly casual affair these days. For meetings with potential buyers in a gated community, it'll pay to show up looking sharp! The expression "When in Rome, do as the Romans do..." is fitting here. The very message a gated community sends is one of uniformity and inclusion/exclusion. In order not to fall on the exclusion side of that equation, you'll want to line up with the demands of the community's culture. In this case, how they dress.
When marketing real estate in this space, you'll do well to look like you belong in the space yourself. Sometimes, this may mean dressing down a bit too. If it's a golf community, you may want to break out that nice, ironed polo shirt, versus a stuffy suit. Make sure your vehicle looks nice as well - maybe even consider a rental for the occasion if you feel that the opportunity warrants the temporary upgrade. Ultimately, you're marketing a real estate lifestyle package and if you don't look like you're living it, you may not look like you're selling it.
Plan out your marketing
Gated communities are typically governed by homeowners' associations (HOAs), which means they are subject to fees. There will also be rules the buyer will have to follow regarding the home's outside appearance (with many considerations regarding the inside of the home as well, so be sure to do your real estate homework before you begin your marketing efforts). While wowing the prospective buyer on the amenities and aesthetics of the community, you'll want to interweave the community's HOA culture so that they can make an informed real estate decision.
Also, examine the financial health of the HOA here as well as specific rules and regulations governing the marketed amenities. There may be certain restrictions that prohibit the use of use of common areas in a way that the buyer seeks to use them. For instance, some community centers may prohibit large gatherings and if your buyer is looking to host parties on a regular basis, they might be disappointed to learn this fact down the road when you're all neck deep in documentation. Better to know in advance (and certainly before you spend all of your real estate marketing dollars on a campaign to push those features and amenities)!
Not all discoveries are bad though and you should keep a keen eye out for opportunities that might not be as highlighted as they could be. For instance, you may notice rather high HOA fees at first glance, but later uncover that the community enjoys a rather healthy, well-funded treasury that is ready to address future issues with ease... something that will enhance the buyer's investment considerably. Marketing these features can become a specialty of your real estate business.
Marketing the positives
Some buyers may be averse to the cookie cutter look of a gated community, HOA fees and hardline rules... maybe just the inconvenience of always having to buzz in the pizza guy. For these clients, your real estate marketing efforts will have to play up the positives. For instance, that cookie-cutter look and HOA might equate to reliable and/or consistent ROI down the road.
Given that much of the home's valuation (when it comes time to recoup their investment) is based on surrounding home values (aka Comps), knowing that your neighbor's homes are railed in a bit and can't swing too far outside of the bounds of a reasonable return on investment will come in handy down the line - essentially gated communities like the one you're marketing might provide a "safety in numbers" situation.
If you're stretching to find the positive, it can be helpful to remember that what you see and what the client sees are two different things. What may be stuffy to you may be safe for their growing family. What may seem rural and culturally-removed to you, may be the very solitude they're seeking at this stage of their life. This may be their vision of solace and it may now be your role to market those winding streets and well-manicured landscaping they don't have to worry about. Look for these potential advantages:
Reduced traffic and noise (a great real estate feature to market for those seeking solace from the grind)
No solicitors (beyond a no soliciting sign, that fence will come in handy to maintain privacy)
Increased safety (not just in the form of gates, but a close-knit community of neighbors)
Protection of their investment (in the form of a solid HOA looking out for the collective ROI)
Exclusive access to amenities (it's not just a community center, it's reserved for them)
and the overall sense of community lifestyle... sell the BBQ's, grandkids playing out front, rounds of golf and walking culture
Know your real estate (and the regulations guiding it)!
Sure, these real estate communities are exclusive by nature, but that doesn't necessarily mean they're introverts when it comes to marketing. Rather than just showing up with busloads of strangers rolling out of your car and giving an awkward wave to people you don't know that happen by on the street, instead consider establishing your presence with the neighbors in advance - maybe even recruiting their help. Market your real estate brand well ahead of bringing prospective buyers on by - this way they get to know you personally. This will help build trust when you see them next time with buyers in tow.
Make a conscious effort to meet the neighbors, maybe even actively marketing your real estate brand and services door-to-door. Door-knocking homes in the immediate area around the real estate you're looking to close on will demonstrate that you're the agent considering the culture of the neighborhood itself (and this will work well for you when you show up with buyers). Now their wave is genuine and they might just come over to introduce themselves to your buyer... a great, friendly scene to share with prospects.
Make an effort to meet the HOA or community board and demonstrate that you're looking out for the community's interest by checking in advance if you are allowed to put up real estate marketing signs. They may even allow you to advertise in their newsletter - which is itself a great way to get referral leads. You may also be able to leave info at the gates for interested parties. If you don't A.S.K, you don't G.E.T. On that note, you'll want to make sure that you get temporary gate access or a code so you don't have to ask for permission every time you want to show the property.
Know your market
As with any real estate marketing, it pays to begin the client relationship with a thorough examination of their needs and priorities. There's no sense in trying to market gated real estate to someone who's completely against living in a governed community. On the other hand, if you know which features will stand out to your buyer, you can adjust your real estate marketing focus accordingly. Whether it's the golf course, the exclusive access or the kids' playground, every buyer has different priorities.
For those focused on safety, get crime statistics (not just for this community, but communities in general). For the amenity chaser, you might do a special tour of the country club or even schedule a round of golf. Make it a bit of a spa day and let your prospective buyer taste a bit of the luxury you're selling!
offrs collects and provides topical insights, statistics, reviews, humor and best practices gathered from real estate professionals and consumer homeowner industry peers. If you're a broker or agent interested in learning more about real estate lead generation companies changing the game (namely the #1 in real estate lead generation services), visit www.offrs.com. Or just browse our growing collection of industry articles at www.offrs.net.
What are your thoughts?