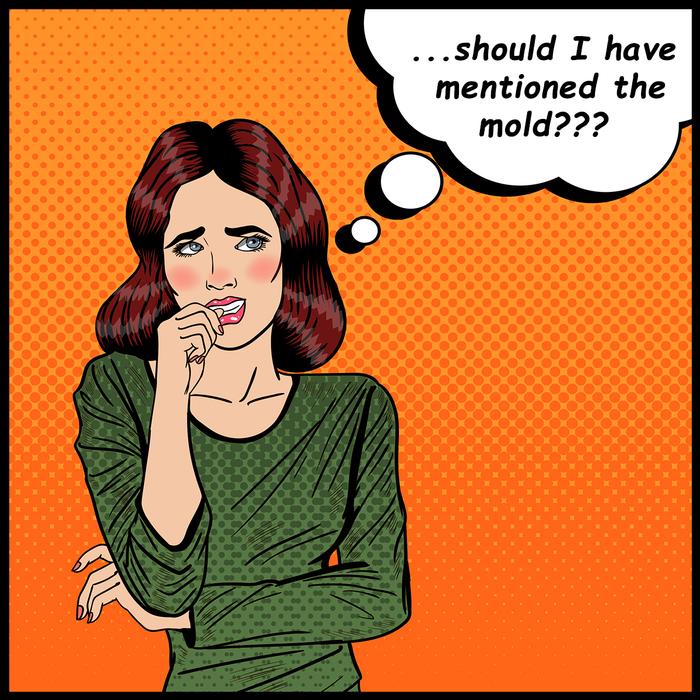 offrs Reviews Disclosures: What Do You Need to Share When You Sell Your Home?
When listing a home, you don't have to share all your fears and worries, but there are some things you do have to share. Where's that line? Well, it depends. Let's review...

Most homes have their own unique peculiarities. While some may be endearing (or not), others may be something a buyer needs to know before they close on your home. These are called disclosures and if you're selling your home, you'll need to know which disclosers have to be shared and what might happen if you don't follow reasonable guidelines of disclosure. Note: this is no substitute for legal advice (at all), rather the beginning of discussion around the subject. So let's look at some important aspects around disclosure...
Disclosure Laws Vary by State
The first thing you'll want to know is that you won't likely find one resource that lists all of the disclosures required in the U.S. This is because each state manages its own disclosure laws. The best way to learn more might be to talk to your real estate agent or attorney to ensure you understand the laws that will apply to your sale. In general, it's important that you disclose any significant known issues with your property. Focus on major issues that will be costly to fix. For instance, you may not need to worry about the single tile you replaced in the bathroom, but if it was replaced due to a black mold infestation, it will definitely lean in the direction of an item to disclose. Many states use a disclosure form that you complete as the seller and provide to the buyer. Even if your state doesn't require it, it's always best to put things in writing to avoid miscommunication.
What Can Happen If You Don't Disclose?
For one thing, you can be sued by the buyer, and these types of suits are common. It's not worth trying to hide a serious defect in your home, because the repercussions can be significant. Hey, nearly every home has something that needs improvement, so it's not worth the trouble later in the sale. When it comes to disclosure, it's probably better to err on the side of caution. It can be a difficult balancing act sometimes, but you need to protect both yourself and your buyer. Put yourself in your buyer's shoes. If you purchased a home then later discovered that the basement floods every spring, how would you feel - what if it affected their health? Since the cost to prevent the flooding could be significant, you may well decide it's worth it to sue the seller!
Things To Consider
It's not all surface or structural issues though... funny as it may seem, some states mandate that the seller disclose if there are paranormal activities in the home or if someone has died in the home. For some, either of those issues could cause severe emotional distress. You may also need to disclose anything that affects having a clear title to the home, such as a contractor's lien on the property or needing approval from a probate court. That said, let's look at some of the more down-to-earth considerations worth disclosing (be sure to check with your agent or lawyer to see if these apply to you and your home):
Lead-based paint. There is a federal law that affects sellers in all 50 states. If your home was built before 1978, you must disclose all known hazards in the home that are related to lead paint. Be sure to review all the requirements mandated by that law with your real estate agent.
Toxic Materials. You must disclose if you know that there is radon gas in the home, asbestos or formaldehyde insulation used in the home, or toxic mold. These are particularly serious because they may grow into unaffected areas if not addressed, further compounding any issues.
Natural Disasters. You need to disclose if your home is located in an earthquake zone or a floodplain. If your area is subject to wildfires, that should be disclosed also.
Structural Issues. Roof leaks, foundation issues, water damage, siding problems, or problems with the plumbing or electrical systems in the home should be disclosed. In addition, you should also let the buyer know if you've made any major repairs or renovations.
Final Thoughts
If you're aware of a significant defect, consider whether it would be wiser to do the repair yourself before putting your home on the market. The buyer will be much less concerned over work that you did as opposed to problems they would have to take on themselves. As a result, you may be avoiding having that issue standing in the way of a major life transaction. Again, check with your agent and/or attorney to be sure... have we said that enough? =)
offrs collects and provides topical insights, statistics, reviews, humor and best practices gathered from real estate professionals and consumer homeowner industry peers. If you're a broker or agent interested in learning more about real estate seller leads or perhaps real estate listing leads, then be sure to stop by www.offrs.com. Or you can stay and browse our growing collection of industry articles here at www.offrs.net. =)
What are your thoughts?