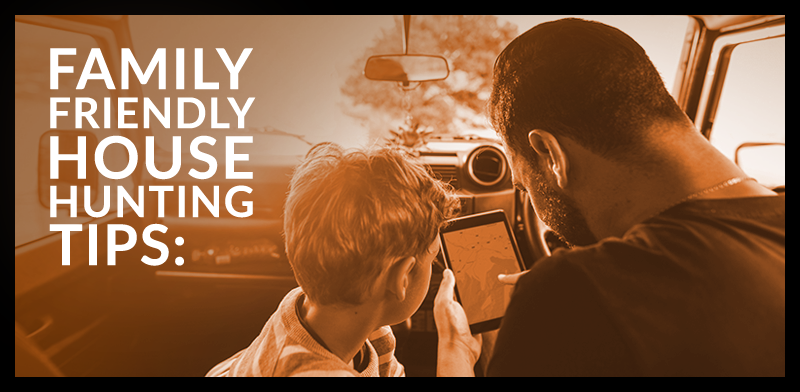 offrs reviews family-friendly house-hunting tips
Hey, who said that house-hunting had to be a stressful thing? Let's review a few tips on getting the most out of your afternoon...
There are two types of house-hunters... those that cannot wait to jump in the car with a fresh cup of coffee and head on out for a day of adventure... and those that dread the thought of driving all over town, poking their heads in other people's homes. Whether you fall into the first camp or the latter, we're going to lay out how the day can be made fun for everyone. Yes, we'll even go into a few ideas for parents on the go. First, it helps to put things in perspective...
What it's all about
You're not buying anything, you're not committing to anything and you're not wasting anyone's time by looking around (working with an agent can come later). For now, you're just synchronizing with your team (or with your own life goals - if it's just you). Think of it like team practice... it's not about making goals, it's about coordinating and learning what works and what doesn't. If you're of the mindset that this is more of a chore, it might help to consider that this is an opportunity to voice your input on the matter. What's important to you? After-all, house-hunting as an activity (unlike the title suggests) is really about finding what doesn't work as much as what does. Make a list of the things you run across that you do and/or don't like. But it's okay to give your team and yourself an out... no one has to explain their thoughts, so long as they say them aloud. Just list it out - no pressure.
It should be fun
Okay, so searching for your keys... that's stressful. Searching for what you do and don't like in a home doesn't have to be. With a little planning, you can anticipate many of the aggravating aspects of it and strategize to keep it in the easy-breezy spectrum. Blood sugar, car-sickness, basic fatigue, cramped corridors, general boredom, shyness and naturally-varying opinions - these will be the usual suspects when it comes to raining on your day. So, like any kids birthday party, family vacation or home renovation... plan on it! All of these issues above can be solved with breaks and a little bit of creativity and forethought. Your natural instinct is going to be to jet through it and get it done, but the flaw in that is your team isn't really committed and their input will likely be skewed towards whatever makes the day go by quicker. Not the way you want to identify the home you're growing your story in. Here are some quick boosters to keep the crew going:
Map the day out. You may not have long and you really want to maximize the energy levels your team is willing to put in (voluntarily or not). Out of all the homes on your list, pick ones that work in a circle, not a line. A line means you've got a long drive back after an exhausting day whereas a circle puts you squarely back on home turf towards the end of your adventure (just as your team is waning).
There's nothing wrong with per-home time-limits and if you're being real about it, they can actually keep the playing field level with all of the "home contestants." Maybe it's 15 minutes without a guide (a quick, off-the-grid find) or 30 minutes with a guide (open houses, etc.). Like any office meeting, a set limit allows for full concentration from your team - who can now budget their own emotional energy to each home.
Depending on your per-home time-limit, drive-time between and so on, you may want to have a break between each viewing or possibly every other house. 15 minutes to stretch and either talk about the last place or talk about the weather... whatever works to keep your team going for the long-haul.
Some people crash if they don't eat, some once they do and others... both. Unfortunately, this may not gel with the entire team and you might want to consider leap-frogging when all the members of your hunting party break for rest versus breaking for food. Over-planning? Sure, maybe. But you're on a mission and you need your team in prime shape.
If it's good enough for the NFL... plan for a half-time show. Maybe something they will love like a quick trip to the local hardware store for a few items, the musician's supply store to check out someone's wishlist or even a game shop to browse the latest titles. Make it fun for everyone. We don't suggest purchasing anything as that will set the tone for straight-up bribery. Instead, keep firm and light... nobody is buying anything... not even a home (yet).
You'll know when your team has really hit the wall. Even if you get one home in for the day, it isn't necessarily a bust. Quality (not quantity) right? Don't push too hard... there are two days in the weekend and there are several weekends each month. Keep it light and fun. Set the standard that there's no pressure and you might be surprised in their energy-levels the next go round.
Plan for a fun, post-parade wrap-up party. Dinner and a movie will give you the best of both worlds... plenty of time to discuss the day and plenty of time to let it go and think about something else. If you've got kids in tow, build in some rewards, but also, train them to keep optimistic with the prospecting by asking questions like "Wouldn't that make a great game room?" or "You might be able to build a fort back there!" Like the adults, consider getting them involved in the dream over rushing through it to beat the clock. House-hunting can be a memory in itself.
Some people love to give their opinion on things while others care (just not that much). If you're in the first category and your teammates in the second, don't push... they'll likely give you the input you need once they've come to their conclusion. Go for solid input over a long discussion on the matter. Again, quality over quantity.
What's important to you?
Want more space to spread out or less space to clean and heat? Looking for a quick hop to the office or a nice place outside the rat race to hang your hat? Seeking a fixer-upper or a turnkey dwelling? Floorplans are what make a home a home, right? Obviously, you're going to want to get on the same page (and you may not yet know what you want), but if you haven't listed out what you like or don't like about each home, then what's everyone supposed to huddle around? Okay, so it doesn't have to be a novel for each stop. Just one thing you liked and one thing you didn't like. If you can get this from each member of your party, then you're getting gold. Write it down. On that note, you're not going to remember every detail of every home you see, so it'll be a good idea to take photos.
Remember we mentioned that you're not buying anything... so visual aesthetics aren't going to be as important a factor as design and functionality. As you look at different home layouts, think about how you'd use the space yourself. If you see several homes with open concepts, you'll form an opinion about whether it's something you can't live without or something that you couldn't put up with. However, if you are ready to make the move, then don't worry about interior design. Painting a wall is easy and inexpensive. Fixing a foundation problem, on the other hand, is difficult and expensive. Train yourself to look beyond the interior design to the function of the home, how well maintained it is and whether you spot any obvious problems like cracks in the walls or sloping floors which could be signs of much more serious or expensive problems down the road.
People talking about homes often refer to the "bones." If a home has good bones, then the basic structure and layout of the home is solid. You need to avoid letting the purple-striped kids room or the gigantic sectional in the living room that makes it look small warp your perception of the house overall. You'll start to gather some important skills and information as you browse homes, which will help you decide what you like and what you don't. On the other hand, no home is perfect, so use this time to decide where you can make compromises, too.
Don't forget the neighborhood
We've talked about this before, but you're not just looking for a house, you're looking for quality of life, a place to raise your kids, or at very least, a place you can tolerate. Consider walking the neighborhood a bit, especially if a home really calls out to you. Stop by at late hours during the week and on the weekend. You want to make certain that the charm of your Sunday stroll isn't offset by the regular mid-week frat parties across the street. Of course, if you're looking for an investment too, nearby homes are a major factor in the future valuation of your home, so don't underestimate the effect that charming, historical shade trees or neglected and dilapidated homes can have on your home's long-term valuation, even if they're all out of sight of your lovely prospect villa.
The big picture
Really, when you think about it, it'll be your family (or your own personal sanity) that makes your house a home. Don't let the task of finding a place eat away at the fabric of your life. Again, even if you're doing this solo, this shouldn't be a stressful experience. That's not to say that it won't be at times, rather you can (actually) have fun with this... as long as you work toward that goal. Take the time to let yourself and your family ease into the buying decision. When you're prepared, there won't be much need for debate. When you walk into the right home, it will likely be obvious to the entire family. Hopefully, there are a few takeaways in here, but if you're reading this... you're already putting effort into the experience and that's enough. Have fun out there and good luck on the hunt!
offrs collects and provides topical insights, statistics, reviews, humor and best practices gathered from real estate professionals and consumer homeowner industry peers. If you're a broker or agent interested in learning more about seller lead generation or automated marketing services and solutions, visit www.offrs.com or continue to browse our growing collection of industry articles at www.offrs.net.
What are your thoughts?