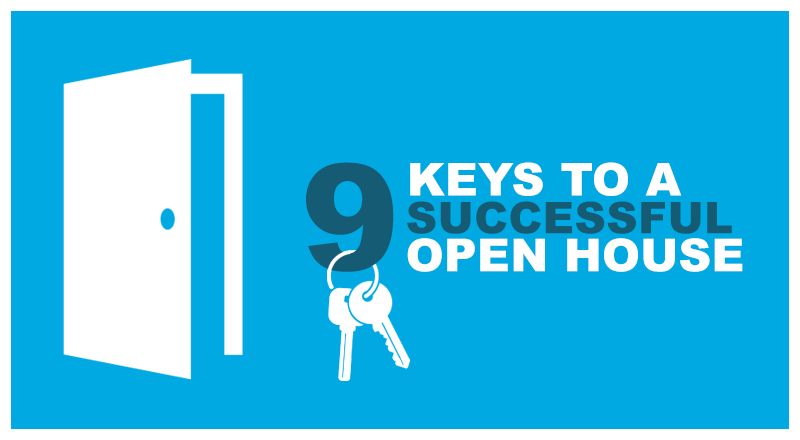 offrs reviews 9 keys to a successful open house...
Much of this will be a recap for those veterans out there with experience listing homes, but for those that are just entering into the housing market with your first open house, here are 9 tips that may help you go from listed to sold. Let's review...

Obviously, it's important to stage your home before an open house, but what does that entail, really? To attract an offer as quickly as possible, you're going to have to make a solid, positive impression (without even being there). It does take work, but the payoff can be huge. So here are 9 keys to making a great and lasting impression for your open house. Be sure to share any additional tips that you've heard of or that have worked for you in the past!
Clean and declutter
While this seems obvious, it's nevertheless one of the most common issues that agents run into out in the market. We're not talking a weekend cleaning, we're talking scrubbing the oven and refrigerator kind of deep cleaning. Your open house visitors are going to snoop into every crevasse, looking for signs that you haven't kept up the care on your home (their potential home-to-be), so your house must be spotless! A deck with stains from a recent bar-b-que party could undo the fact that you just renovated it last Spring! So for optimal results, you're going to want to clean everything from top to bottom - and then clean again. Consider using a cleaning service to get the base stuff out of the way, especially if you have carpets or lots of big windows.
Knickknacks make it hard for the buyer to focus on your home's features. To declutter, reduce the number of personal items on tables, shelves and in cabinets and closets. Minimize the number of appliances on kitchen counters. It's best to give your home a reboot starting from the ground up, rather than pairing it's current state downward. That is to say, don't take items away until it seems decluttered... take everything away and add back neutral items to make it feel natural, organic and lived in, yet open and inviting to their style of decor. You don't want to create the impression of a cold museum, but on the scale between pawn shop and museum, it will always be better to lean on the museum side.
De-personalize
Your potential buyers will try to imagine your home as their own (and this is a good thing). Help them along in this exercise by removing family photos, refrigerator magnets and kids' drawings. Add a few mirrors in place of art (because not everyone has the same taste in art). As a bonus, a mirror will make certain rooms look bigger. Buyers will be looking for a home with ample storage space and clutter does not send a good message. We've said it before, but attending an open house is a little off-putting for some. They may feel like they're invading your space, even though you're inviting them on the tour. Odds and ends laying about enforces this invasive feeling and takes the focus away from the real star of the show... your home!
Light it up and air it out
Don't be shy! Put the spotlight on your home with some added lighting. Turn on all lights and lamps (plant a tree next week if it helps ease the sense of a deep carbon footprint for the weekend). Remove curtains and pull up blinds - you'll be amazed as to how much light you may be missing out on! Use white linens and white towels to create an air of cleanliness in the bathroom. You should also open windows and create a cross-breeze the day before in order to air out the house.
Max out your curb appeal
The outside of your home is the first thing buyers will see - so take advantage of it! Freshen up the exterior with new address numbers and welcome mats. Inspect that mailbox to see if it's become the Leaning Tower of Pisa over the last few years. Prune the bushes, trim the lawn, plant some flowers and possibly add some patio furniture to really top off the picture you're creating for them. Curb appeal is real and it sets the tone for their experience even before they set a foot on the property. When it comes to outdoor updates, be sure to adopt as much as you're comfortable with of the neighborhood's theme. A pink cabin in a rustic mountain-top community or a brown bungalow in a Floridian beachfront neighborhood will both make your listing stand out... just probably not how you want it to.
Get the furniture just right
How? By getting rid of almost all of it. Your agent will know if this pertains to you or not, but in general, too much furniture makes a home look crowded and small. That said, you want to keep at least one item in most rooms (at least according to agents tauting the best open house results). It's said that this helps provide a visual reference to the dimensions of the rooms. As mentioned above, you'll want to keep some of the more regionally-themed accent pieces. Inside, you'll have a bit more flexibility than outside, but if you're listing a beachfront condo, then lightly-weathered pastels and some nautical-themed accent pieces from TJ Maxx may spark your buyers' imaginations. Be sure to take photos of the house before the furniture heads out for restaging. Also, set the dining room table to create the feeling of a home fit for entertaining.
Tackle that honey-do list of minor household tasks
No one wants to break the bank when staging for an open house, but this truly is your property's 15 minutes of fame and some minor updates can go a long way. Updating older light fixtures, modernizing kitchen knobs and drawer pulls and just a little painting touch-up for your front door are all easy dos (even for the most "un-handy" of handy homeowners). Take a black or brown sharpie marker and quickly mark over any dings on wood cabinetry. It's a cheap fix but can make a world of difference - every ding adds up to an over-arching story about the care of your home. Use a Mr. Clean Magic Eraser to quickly bring white walls to their original, pre-scuff beauty. It's the little things.
Take a hike (and take your pets with you)
Okay, that sounds a little harsh, but now is the time to let your agent do what they do best and you don't want to create any distractions. Buyers will feel more comfortable being honest with the agent about your home than if you're there in the next room (and honesty at the moment of doubt is what you want). Your agent is trained to deal with doubtful buyers and your presence will only make their job harder as most people will be focused on your feelings rather than the purchase of your home (or the hurdles everyone will need to overcome to arrive at that point). So make a day of it... treat yourself and your family to a nice micro-vacation! Head to the park or the beach... have fun and let your agent do their magic!
Go for that little extra something
Whether it's cookies or chic hors-d'oeuvres, many agents agree that serving refreshments is a good idea. Refreshments make your open house more memorable, more enjoyable as an experience and provide a point of interaction with buyers, agents or brokers (remember that you're looking to spark interest and spread news of your home to every corner of the marker - other agents and brokers will help with this). For an added special touch, you might even invite a food truck or band to your open house. It may seem like a bit much, but some people are doing these sorts of extras with positive results. It might just depend on the size or market value of your home (think of a string quartet on the main room of a villa on the market - pretty posh). Your property needs to stand out with buyers... and they've likely seen it all.
Reward yourself (and your family)
Preparing for an open house is a lot of work and can cause inconveniences for the whole family. So let your family know you appreciate them by going out for a family dinner, having a special pizza and game night or something else to reward them for putting up with it all (bonus: you'll keep the kitchen clean). This tip is important... not for the sale of your home, necessarily... but for the morale of your troops - your team. You may just need to be in the game a bit longer than you would ideally hope for and having your family's support will make all the difference in the world. Remember... the early offers you receive may not be the optimal ones you want to accept. So you'll want to look for ways to turn an otherwise stressful household experience into a memorable series of family outings. Doing so may ultimately strengthen your family bond while working towards the benefit of your family's financial interest!
offrs collects and provides topical insights, statistics, reviews, humor and best practices gathered from real estate professionals and consumer homeowner industry peers. Now, if you're an agent looking for real estate lead generation websites, then you've come to the right place (sort of)! =) Just visit www.offrs.com or continue to browse our growing collection of industry articles at www.offrs.net.
What are your thoughts?