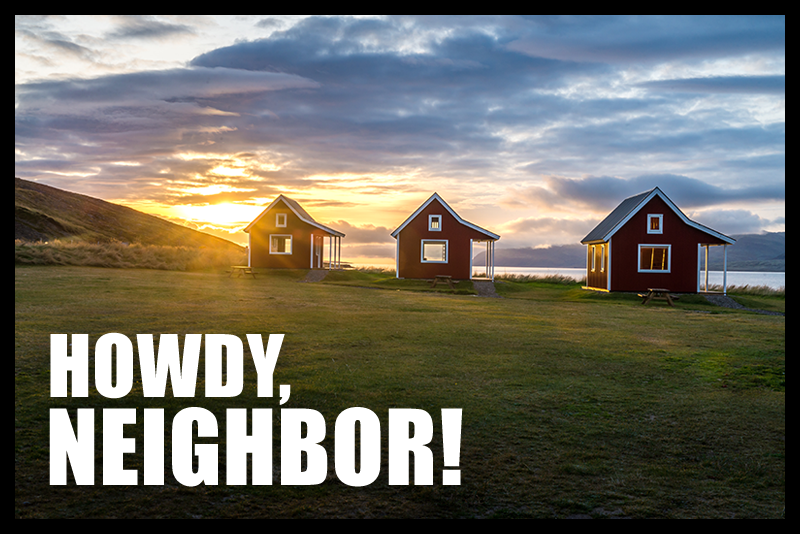 offrs Homebuyer Review: You Are Not Just Buying the Home... You Are Buying the Neighborhood
"You're not just buying the home, you're buying the neighborhood"... sure, but how do you know what you're getting yourself into? Don't worry, we've got some resources for you to use in your search for the ultimate community. Let's review...
Feeling a bit blind-sided with love at the sight of a home? It's okay... just be smart. Afterall, you're not just buying the home, you're buying the neighborhood. We don't want to sour your home-buying experience, quite the contrary actually, but if we can lay out some pointers that might land you in the most beautiful home in the most fitting of communities, that would be a solid win across the board. So let's explore...
Plug-In
First, let's talk about your team... if you're not working with an agent, you may not be getting the full picture. An agent will not only have access to unlisted properties you cannot find anywhere else (usually from their network of friends and colleagues - an inside scoop sort of thing), but they also have access to information about properties you may be looking at (and probably wouldn't be if you knew the whole story). There are all sorts of reasons that the dream home you've been looking at is really a money pit waiting for your investments. From "not-so-highlighted" radon and mold issues to epic-loud neighbors and an airport being greenlit a mile away in the next 10 years. Who knows what could be waiting for you, so you're going to want to get plugged into the grapevine and an agent is a great way to do so. That said, there are some things that an agent might be biting their lip to say, but can't.
By law, your agent is prohibited from answering the question, "Is this a good neighborhood?" The Fair Housing Act, enacted in 1968, prohibits any agent from "steering" homebuyers toward or away from a neighborhood. In addition, everyone's definition of a good neighborhood is different. If your agent answered that question, you'd be swayed by their opinion. However, if you ask direct questions such as "Have you heard of any public works projects that might affect the neighborhood?" or "That beautiful, meandering creek running through the neighborhood... what kind of mold issues are the neighbors experiencing?" That's not to say that your agent will know, but if they're plugged into the rumor-mill, then their connections might just be able to give you an inside scoop that saves you countless miserable years. Like an online dating site, pictures and even a short bio don't have the weight that a friend's knowledge of the person can provide. If you're not plugged in yet, that would be the first place to start.
A Few Tools to Explore
So... do you have to rely on an agent to provide you this invaluable info? No. Whether working along-side an agent or doing some advance research on what you're looking for before you commit, there are some powerful tools available to help you along the way. City-Data is a good example of this. There are also apps that you can use while out on the road, but again, there's nothing like the inside scoop.
What Should You Look for?
It's always a good idea to start your home search by creating a list of things you want in a home and in a neighborhood. This may prevent you from falling in love with a home that's in a neighborhood that doesn't fit your lifestyle. Here are some things to think about:
Schools: It's an obvious start, but it remains one of the most common factors that drive parents' home-buying decisions. Be sure to keep in mind the bus routes. Some routes will only go out so far (such as 2 miles), but will not pick up within a certain range (under 1 mile). Their thinking is that within 1 mile, the kids can walk and while this is true on the surface, rainy mornings now affect your routine. Along those lines (no pun intended), the bus routes may very well be gerrymandered, following an ant trail of neighborhoods rather than a circled range. Every county is different, but some provide pickup/dropoff maps online. You'll need to research your county's school bus routes to see if your dream home is located near one of these. Even if you don't have kids, the quality of schools has an impact on real estate prices. Living in a sought-after school system will give you an advantage if and when you consider selling down the road. For detailed school information, try sites like GreatSchools which are dedicated to rating schools.
Amenities: A neighborhood that is close to cultural amenities like shopping, grocery stores, restaurants and entertainment is usually more attractive than one where those things are farther away. The seclusion may be what you're looking for, but if a life spent in commute isn't in your cards, then you'll want to factor in other near-daily commutes like groceries and after-hour activities. If you run a home business, then you know how important (if not just to your state-of-mind) a trip to the office supply store or local business print shop can be. This is all to say that your initial goal of seclusion may ultimately be the thing that drives you batty. But keep in mind that things change. Whether you're seeking nearby cultural options or seclusion, local shopping and resources can pop up, move or go dead overnight. Here, again, is where having the inside scoop will help. That beautiful cornfield may be a strip mall in 3 years, then a dead eyesore in 10. It's good to have the head's up before you commit to the area.
Safety. Naturally, you want to live in a safe community - no one benefits from a neighborhood in decline. However, you'll need to decide what your trade-offs are going to be. First to go is freedom... a hard-line HOA may help keep the community family-safe on one hand but kill family-friendly events like backyard bar-b-ques with the neighbors on the other. Second, is cost... a gated community is typically going to raise the entry point on your home for you, but also narrow your buyer market down the road (should you look to sell your investment later). This isn't to sway your thinking one way or the other. It's just something you may want to consider if either of these is important to you. Many websites that offer neighborhood data will also include information on crime statistics. To start, check out dedicated crime search sites like CrimeReports.
Access: Most people will be thinking about their commute to work. Afterall, how long do you want to spend away from your dream home, sitting in your car going to and from work? If there's a major highway that will zip you to and from your job, consider how many backroads there are that also connect the two dots, because inevitably, you're going to face school traffic, seasonal tourism crowds, accident delays or you may simply want a more scenic option here and there while heading home. If you've landed yourself in the one neighborhood that only has the one entry or exit point, then your commuting options are limited and your life may become more routine than you're ultimately comfortable with. Also, consider employment options in the region. Dream job or not, if your company suddenly shuts down, then having a city 15 minutes to the north of you and another city 15 minutes to the south of you may give you more of a career opportunity safety net.
Happiness: Decide how important noise or light-sensitive environments are to you. But also factor in things like internet access, cell phone coverage, walkability, EMF (Electromagnetic Frequency) health and so on... because that cell tower next door may be giving you more than awesome reception. You may not think that those planes landing at the nearby airport will bug you... until it becomes a regular-scheduled program day and night. So, maybe take a late-hour tour of the neighborhood some weekend (or weeknight) to see if the night owls next door are the hosts of the nearby weekly frat party. Only you will know what constitutes your definition of happiness, so it'll be up to you to define what will work and what won't.
And Then There's Time
As brought up before, things change over time and neighborhoods can undergo big cultural shifts with infusion of new blood or revitalization of the residents' community spirit. You might be first in a new trend for the neighborhood. Just make certain that you're not stuck going against the community grain. It may sound dramatic, but if you've had the joy of discovering a new neighbor parking cars on the lawn, then you know how important community culture can be - if not for your sense of peace, then certainly for your wallet.
offrs collects and provides topical insights, statistics, reviews, humor and best practices gathered from real estate professionals and consumer homeowner industry peers. Real estate predictive analytics can't solve every neighborhood issue, but it can connect agents to homeowners looking for help. Be certain to visit www.offrs.com to learn more. Or continue to browse our growing collection of industry articles at www.offrs.net.
What are your thoughts?