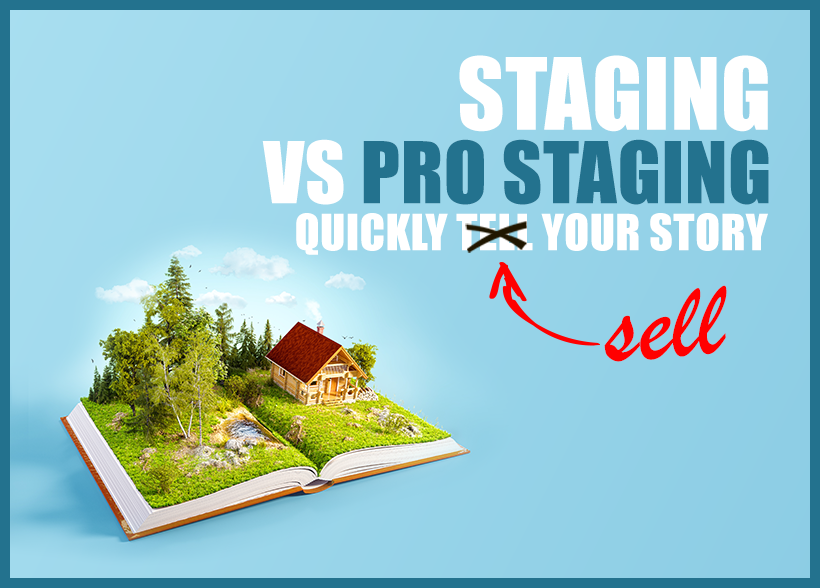 Staging vs Professional Staging - An offrs.com review
So what is the difference between staging and professional staging? In short, probably the difference between dentistry and professional dentistry, but perhaps we're exaggerating a bit. Let's review why a staging expert may be right for your listing...
As seen on Kinja.com...
Is Professional Home Staging Really That Important?
If you're thinking of selling your home, you've undoubtedly heard about home staging, but not everyone understands what staging is or what it can do to help sell your home. Here some points that everyone should know...
What Is Home Staging?
You can find a variety of articles online about "home staging," with many of them focusing on giving your home a deep clean and keeping it clean throughout the listing, clearing out clutter, thinning out your overgrown front garden or painting your old, paneled walls and so on. But you'll find fewer articles that clearly explain the process of professional home staging and why it's so very different.
Telling the right story to the right audience. First, it's important to remember that your home is about them (the buyer), not you. But who are they? Your agent and professional staging specialist would work together to create a new story from your home that matches the target market your home has been slated for. The obvious example is if your home is on the beach, then your agent has likely identified beachfront homebuyers (obvious-enough). So, this may mean taking out your everyday decor and replacing it with more nautical-themed items or leaning towards lighter, sea-washed colors that might inspire new or prospective beach homeowners. But what if your home is a downtown condo? Would it be an older, single executive or a younger entrepreneur with a new, but growing family? What if it is both? This too is where your agent would provide the marketing approach and work with your professional staging specialist to help build the perfect model home that help will shorten your DOM (Days on Market).
Striking a balance between a home and a gallery. You might not think of it (it's your home, after all and you've grown used to the layout), but a staging expert is telling an evolving story. Think about it... your ideal buyer has come to view your home and the first impression is your neighborhood, then your lawn and driveway as they're pulling up to your home. The porch (if you have one) is picking up on this unfolding story. Then through the front door, into the foyer, looking up and around, then left or right and in and around the various rooms. Your home isn't staged to blurt out everything at once, it's an evolving story. That said, it also has to show life. Striking this balance between showcase and living space is the world in which professionals dwell. Can this be handled by you or someone you know, cutting the costs of a professional? Sure, but it's helpful to understand that it may not be what you do (or what you do not do), rather the balance you strike between the two that moves your listing faster.
Creating points of inspiration. So now you know that there's a story being shared with your target audience - an evolving story that draws them deeper into alignment with your home. But along the way, you're also going to want to create intentional points of inspiration (and this may include strategic highlighting of fixer-upper jobs that never got completed). So let's say that your prospective buyers are traveling along the path set by your staging expert, but they stop in the living room (because the touring agent knows that there is only one door forward and they're standing in the path, politely pausing to answer questions). Without being invited to, your guests are now looking around the space and come to their own realization that the stonework fireplace and vaulted ceilings are quite nice. Of course, the agent and your stager planned this stop along the route, but the buyer will think they have "discovered it." Sneaky? Maybe. Smart? Absolutely. Have an unfinished bathroom in the basement? A pro stager might just pop some art brushes in a tin and a few canvases around to speak to the artisans that might want to keep this as their studio wash bin rather than move forward with a traditional renovation.
What Can Home Staging Do for You?
The National Association of REALTORS® (NAR) published a report titled "2017 Profile of Home Staging." To prepare the report, NAR sent a survey to over 53,000 of their members and received a 3.5 percent response rate. Here are some key findings from that report:
About one-third of buyer's agents said that staging a home increased the dollar value offered between 1 and 5 percent compared to other similar homes on the market that are not staged.
21 percent of the respondents said that staging increases the offer price on a home by 6 to 10 percent.
39 percent of seller's agents stated that staging a home greatly decreases the amount of time the home is on the market.
Anything that can increase the price of offers on a house while reducing the amount of time the house is on the market is worth your attention.
What Are Some of the "Rules" of Home Staging?
No two homes (or regions for that matter) are alike, and no two staging approaches should be either. You certainly would not want to stage a ski lodge with the beachfront decor approach from earlier (obviously). But outside of the obvious examples, what might you do that tips the buyer into seeing a mismatch between your home and the story you were trying to tell in order to attract the optimal buying audience? This is why it's recommended that you at very least ask your agent about professional staging. Still want to take this on yourself (or want to know what to keep an eye out for)? Here are some high-level home staging basics:
Declutter. Buyers need to be able to picture themselves living in the house. To accomplish that, it helps to have uncluttered spaces to give buyers' imaginations a chance. In addition, if counters, closets and shelves are overflowing, it can give the impression that the house doesn't have enough storage. Rent a storage unit if you have to and reduce your pots & pans, boxes in the garage or whatever else you have taking up space.
Depersonalize. You have probably decorated in a way that matches your lifestyle, but it'll be overwhelming for buyers trying to envision themselves in the house. Remove things like collectibles or family photos. Some agents encourage you to keep a few around, so be prepared to explore their marketing approach and advice.
Make the house look as spacious as possible. The large, comfy leather couches and loveseats that you enjoy in the living room may make the room look smaller than it is. On the other hand, it's also true that an empty room looks smaller than it is because buyers don't have a visual reference for gauging size. Home stagers will often encourage you to remove some of the furniture but leave at least one piece of furniture in each room.
How can Staging Affect Buyer Emotions?
Your home should reflect the lifestyle of people most likely to buy it. For example, if your home would attract a large family, furniture placement and flow would typically drive people to the kitchen, which is usually the heart of the home. Savvy agents and stagers will "lead" or "drive" leads to the kitchen and other similar areas where delicate negotiations can stay more familial and focused on the emotional aspects of the sale (like the future memories the buyer may make in this very kitchen - think baked cookie smells here). On the other hand, if your home is more attractive to a young professional or first-time homebuyers, then the stager might highlight other features such as smart home connectivity, open concept floor plans, built-in wine racks or a room staged as a home office.
Should You Professionally Stage Your Home?
The answer is almost certainly yes (if you can budget for it)! You can try doing it yourself, but if you want to get the best outcome, hire a professional who can turn your home into a buyer magnet. We have intentionally stayed away from pricing because it just depends on their experience, your region, the physical size and value of your home and so much more. Talk with your agent about professional staging and get their feedback. Likely, they'll have someone in mind or might be able to go over whether they think it's right (or even needed) for your listing.
offrs collects and provides topical insights, statistics, reviews, humor and best practices gathered from real estate professionals and consumer homeowner industry peers. Agent or broker? Make waves this year by putting lead generation for real estate to work on your business. Visit www.offrs.com or continue to browse our growing collection of industry articles at www.offrs.net.
What are your thoughts?