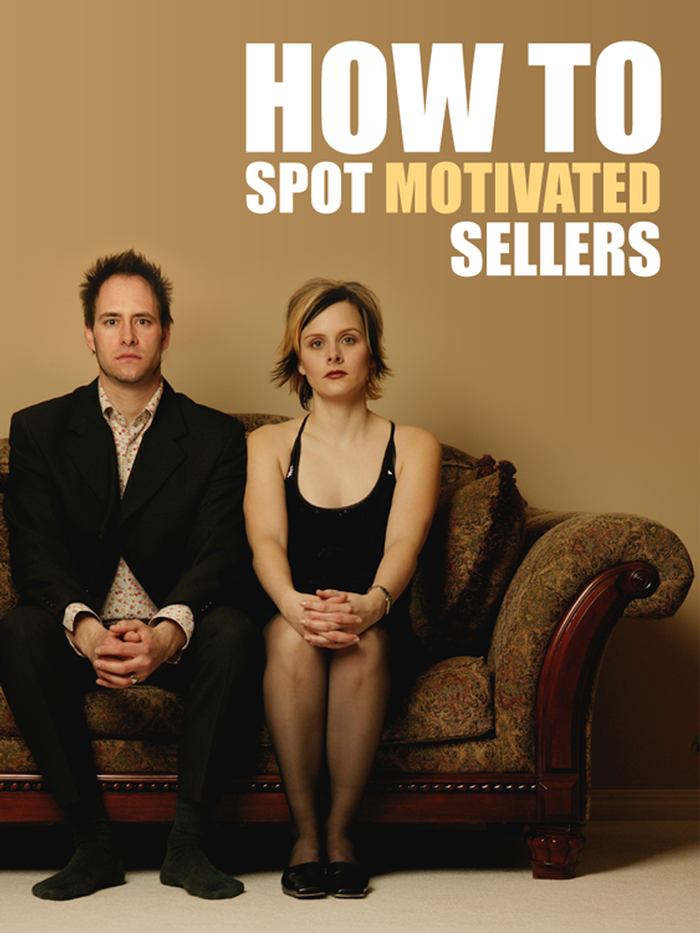 Seller Tells: How To Identify Motivated Sellers - an offrs review
Some people are better than others at spotting a negotiating opportunity, but with these tips, you might find your own hidden talent in the art of negotiating a fair deal. Let's review...
As seen on Topix.com...
Buyers: How Can You Identify a Motivated Seller?
If you're a looking for a fair deal (let alone a great one), it would help if you could identify those homeowners who are willing to flex a little in their asking price. This is certainly nothing new... poker players, car salesmen/women and parents the world over have consciously or subconsciously learned to pick up on subtle tells that can help give them the edge on the truth - in this case, whether or not they are firm on their asking price. Every homeowner will be different, but here are some tips on spotting the ones that might be more flexible than others...
When the Listing Indicates a Motivated Seller
Okay, so this one's an obvious first tip, but it's important to understand what this may or may not mean. When looking at listings that declare "Seller is motivated" you should keep in mind that a "motivated seller" doesn't necessarily mean that they're open to deep negotiations on price. They might be indicating that while they are firm on the listing price, they're flexible on a number of other issues that they feel qualifies them as "motivated." Some of these may affect the overal deal that you get at the end, so you'll have to see if these do make an important difference to you. For example, the seller might be willing to:
Help with closing costs
Schedule a quick or extended close/possession date
Include extra amenities like updated appliances or furniture in the sale
Provide a home warranty or owner financing
There's a lot of room to maneuver in negotiating a home sale and it's not necessarily safe to assume that a "motivated seller" is ready and willing to knock down their listing price - at least not from the start of your negotiations. That said, there's a lot that other factors around the sale can speak volumes about their true position (even if the seller is playing their cards close to chest). The best way is to work with a real estate agent who has a solid history of negotiating and who knows a lot of other agents in the area. The seller or the seller's agent won't tell you anything, but your agent may be able to get feedback from the seller's agent or pick up rumors in the community that would indicate how motivated the seller really is. But here are some other tells to look out for...
Disharmony Amongst the Sellers
If you're looking for it (and if you're okay with dealing with these sorts of high-pressure sales environments), couples that are in obvious disagreement are most likely pressured by time over money. Yes, money is king, but more often then they may lead on, time will become an important factor their decision-making process. They will, of course, assume that a price can be negotiated that is within reasonable range of their asking price, but there's likely one of the two that is already pressuring the other to move fast on any reasonable offers. See if you can help make their case with them.
Disharmony in the Selling Team
Similarly, you may look for tells in communication between the agent and the seller. More often than not, the homeseller will want to go high (trying to get as much as they can for their investment) while the agent will go low (trying to move the listing fast). In these scenarios, the agent already knows the market data and is likely trying their best to convince the homeowner that the market won't buy at such a high price point... so if you can back the agent up in their case to the seller by providing a comp report (listing homes in the area around your asking price or lower), then you might just help the agent win the homeowner over and lean them closer to your more-market-friendly offer.
When the Home Is Empty
When a homeowner has already moved on to a new home, it might be safe to assume that they're very interested in selling and dropping those mortgage payments. No one likes to pay two mortgages or rent and a mortgage any longer than is absolutely necessary.
When the Home Needs Work
Most homeowners realize a home that needs work will be more difficult to sell. In most instances, homeowners will take the time to fix things that obviously need repair (those visible items they can't hide under an area rug). If you see a home with a broken screen door, worn out carpeting or paint cracking off the ceiling, it's a pretty good sign that they're not expecting a top-dollar offer.
When the Home Has Been on the Market for an Extended Period
It's always a good idea to get to know the market in your area. One of the statistics you should research is the average Days on Market (DOM) for your area. You can find information about DOM online, but your agent will be the best way to get and learn more about this tell. Let's assume that the average DOM in your area is 24 days. If you find a home that has been on the market for 60 days, it's very possible that the homeowner is getting desperate (that is, "motivated").
When the Home Has Had Several Price Reductions
Very often, price reductions and extended DOM go hand in hand. When you find a home that has both, it should raise a red flag. It's possible the homeowner had unrealistic expectations of what the home was worth. In that case, the price may have recently been reduced to a reasonable level, and the seller may be expecting an offer at that price. However, if the home has also been on the market longer than it should, the chances are good that the seller will negotiate.
When the Sellers Respond Quickly to an Offer
Most sales contracts include a deadline for a response from each party. You can set a short deadline to push the seller, but it might be better to allow for some decision-making time. In either case, if you find the seller getting back to you immediately, it may indicate they're motivated to sell. Even if they turn down your offer and counter at full list price, the speed with which they respond is a giveaway.
Buying a house takes planning and a bit of finesse. Find out as much as you can about the real estate market in your area, hire an outstanding agent, stay observant to body language and lots of whispering on their team. Friendly disagreements on their side could mean your offer is at least being debated. Use all that knowledge to help you negotiate a fair deal and help them sell their home.
offrs collects and provides topical insights, statistics, reviews, humor and best practices gathered from real estate professionals and consumer homeowner industry peers. Not a home seller, but instead an agent working hard to represent your homeowner residents in the area? Then be sure to check out offrs, the top-rated for real estate lead generation services. You can visit www.offrs.com or continue to browse our growing collection of industry articles at www.offrs.net.
What are your thoughts?