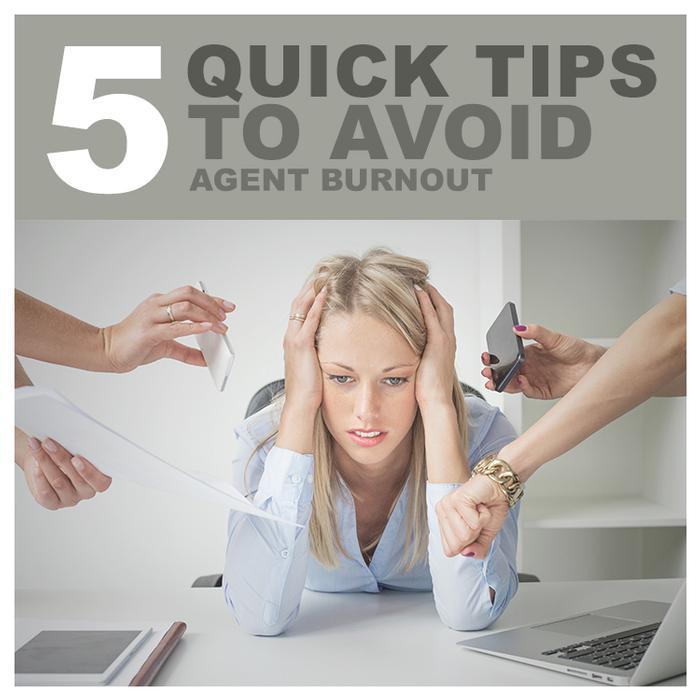 5 quick tips to avoid agent burnout - Helpful advice for real estate pros from offrs.com
If you're thinking of quitting real estate, give these suggestions a quick overview. You've made it this far and we believe in you!
As seen on Bigger Pockets, here are...
5 Quick tips to Avoid Agent Burnout
Let's face it. While burnout happens in every industry, real estate professionals are particularly susceptible. Some insiders suggest that a significant portion of agents will fail within the first five years of their career (and burnout is one of the major causes of this failure). Starting and growing a real estate consulting business takes a lot of effort and those who have made it past the 5-year mark have figured out how to survive the urge to call it quits. If you've made it this far, you can make it a few steps further and we have some thoughts on how you can do it. Here are 5 quick tips that might help you survive the slow seasons and ultimately, make it for the long haul.
1. Don't Give Up Your Personal Life
Most agents are so focused on keeping multiple balls in the air at the same time, that they've all-but-given up on their personal lives. While the do-or-die push to make your business successful may seem like a good idea, you're likely dying. Every soldier needs their supply chain and your friends and family... that's them. Without the support of your family and friends, the reward becomes foggier and your passion will begin to fade, causing a cascade of counter-productive business mishaps. One way to avoid this is by blocking out time for family and friends at the beginning of every week, month or year. Once you have earmarked that time, you need to protect it as if your life depends on it - because your life (outside of your career) does depend on it.
2. Streamline Your Business Processes
To achieve the suggestion above, you'll need to be as effective and efficient as you can possibly be. This will help assure that your time away doesn't affect the business you've built up to now. You'll likely find that this significantly improves your business operations, giving you more (if not more predictable) revenue streams. Consider these tips:
Create checklists that define your current process for working with buyers and sellers, and then check off each task as it is completed. As simple and mundane as this may seem, do it. You may be surprised at how little you actually have on your plate (don't worry, we won't tell anyone). =)
Use technology to your advantage (such as automating your lead generation and nurturing). If you're concerned that this will take your human touch out of the equation, you're likely employing the technology incorrectly (automated solutions are actually designed to schedule your time more effectively so that you can actually be present for relationship-building interactions).
3. Get Control Over Your Email
Email can be a significant cause of stress. You'll probably find that a good portion of your junk email is from a single person, company or community that you had some contact with at some point in the past, so take the time to unsubscribe from each one. You might be surprised as to how happy you become seeing your inbox filling up when it signals a lead versus junk.
4. Improve Your Sales Skills
It goes without saying that sales is key to your success in real estate. But what you may not realize is how much stress there is on your end of the deal. The more you hone your sales skills, the more second-nature any random conversation will feel. Not only will this have the effect of reducing stress around conversations, but it'll also improve your closing numbers (and inbound cash is a great stress reliever).
5. Manage Client Expectations
Obviously, misunderstandings are where the seams of being an agent start to unravel. Managing client expectations is a critical part of nurturing long-term relationships - it's what you're there to do. But many problems that occur between real estate agents and clients stem from muddled expectations. It's your job to set your client's expectations to avoid misunderstanding and managing their expectations clearly and early on will get you closer to your goals of a less-stressful career.
Let your clients know how the home buying or selling process works. Explain the uncomfortable things like agency or commissions calmly and in detail. Teach homebuyers about the pitfalls of extremely low offers; let home seller leads know that setting an unrealistically high list price will typically result in selling below market value. If you hear a client say, "But, I thought you were going to…" you know that you've failed your client in terms of managing expectations.
Real estate can be a solid, long-term career option. In order to be successful, you just need to find the things that work for you in order to burnout. You can make this work.
offrs collects and provides topical insights, statistics, reviews, humor and best practices gathered from real estate professionals and consumer homeowner industry peers. If you're a broker or agent interested in learning more about seller lead generation or automated marketing services and solutions, visit www.offrs.com or continue to browse our growing collection of industry articles at www.offrs.net.
What are your thoughts?