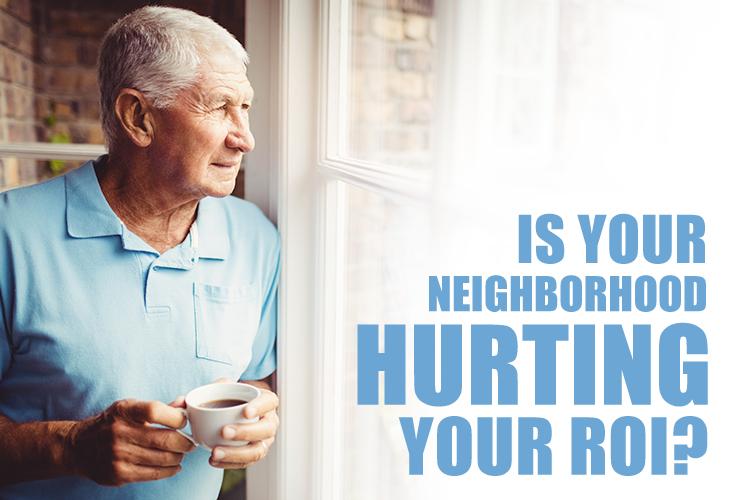 Signs that your neighborhood is trending up or down investment-wise - an offrs.com review
As a homeowner, you already know first-hand how to maintain and improve your home investment over time, but what are the indicators that can signal an upward or downward trend in the neighborhood itself? Here's a quick guide...
As seen on HOATalk.com...
Neighborhood Factors that can Influence Your Home's Long-Term Value
A home will likely be one of the largest investments you'll ever make and keeping tabs on that investment over time will be crucial to increasing your ROI. Sure, it's easy-enough to influence what you can by maintaining your home and making improvements here or there over time. But there's another factor that you have less control over, and that's the overall condition of the community your home is nestled within. Knowing when your neighborhood is beginning to peak in value could help indicate an opportune time to list. Therefore, it pays to be sensitive to factors that might reveal long-term, upward or downward trends in your surroundings.
Track Changes in the Value of Your Home
If homes in your area are all increasing in value, that's great. But, if you see valuations starting to slide, that's something you'll need to research further. There are, of course, larger national economic trends such as those in 2008, but for the purposes of this short guide, we're going to focus on some of the more-regional indicators that may speak to the local market desirability of your neighborhood (at least things that may show a trend up or down).
To help with this, you may want to check out HouseValueReport.com (which can be used to track your home's value). You don't need to sign up or anything, you just enter in your address and it shows you your estimated home valuation in seconds. It not only provides the base estimated home value for your property, but more importantly (and more to the purpose of this article), it allows you to adjust that value by providing additional information about your home and the neighborhood itself (including square footage, dollars spent on renovations, neighborhood walkability, area vistas, amenities and more).
Combine that information with tracking the signs described below, and you'll have a good idea of whether your neighborhood is up and coming or declining.
Signs Your Neighborhood Is Declining
If you live in a neighborhood that is declining, that's a threat to your investment (pure and simple). Here are just a few signs to look for...
Neighborhood amenities are disappearing: For example, if a chain store relocates to the next town over or if there's been a closure of a regional hospital. Like a canary in a mine, these can indicate smaller, transactional sales drops that may ultimately affect larger markets in the area (such as real estate values).
Property taxes start to rise: If there is no increase in local services, it may be that taxes increase to offset a reduction in the number of residents or in the business community itself. This too can be a sign that something's changing in the upward growth activity for your area.
The number of multi-family properties increases: When homes start being converted into duplexes or apartments, that could be a sign that investors are buying up properties. This may, in turn, indicate a drop in resale value for homes in the neighborhood which can start a cascade you'll want to stay ahead of.
More homes are being rented: This usually indicates that the homeowners want to move more quickly to cash in on their investment. Often, they make that choice because home values themselves are declining. While this isn't always the case, of course, a sudden increase in homes for rent in your area can be a red flag.
Public spaces aren't being maintained: If your local parks and recreation facilities are going downhill, that might be a sign that the local government is losing interest. In prosperous times and with huge community support, local government will be pressured to keep these common grounds up, but if they're falling apart, then there are larger support systems that are failing to maintain your home's value.

Signs Your Neighborhood Is an Up and Comer
If you live in a vibrant and healthy neighborhood, the odds are that your investment in your home is safe and your equity will be increasing. Here are a few signs to look for...
Retail outlets are increasing: When new retailers flock to surround a neighborhood, that tends to signal a certain local economic viability. It can tell you that national and/or local business investors have run the numbers and predict that your neighborhood will benefit from stable growth for years to come.
Days on Market (DOM) is decreasing: The faster a home sells, the more desirable the location, so watch for homes being snapped up quickly. If you're seeing "For Sale" signs in the area coming down as fast as they're going up, you're likely sitting in a sweet spot in the local housing market.
Crime rates are decreasing: Beyond the obvious value of a safe environment for your home and family, a decrease in crime rate is also an indicator that residents are demanding better policing, and that the local government is responding. An active community working with a responsive local government can create stable regional housing markets (and stable is good).
Homes are being renovated: This is often the first sign of a healthy community. Certainly, there's safety in numbers, but there's also synergy. It's even better if you see a trend towards continuous home improvement (rather than one, large movement all at once) as this speaks volumes to the culture of the neighborhood as a whole.
If you find yourself living in a declining neighborhood, you'll want to make a decision about what to do. You can sell your home or get active in saving the neighborhood. If you are living in an up-and-coming neighborhood, your investment is likely safe... and you can always join with your neighbors and local government to keep it that way!
offrs collects and provides topical insights, statistics, reviews, humor and best practices gathered from real estate professionals and consumer homeowner industry peers. If you're a broker or agent interested in learning more about seller lead generation or automated marketing services and solutions, visit www.offrs.com or continue to browse our growing collection of industry articles at www.offrs.net.
What are your thoughts?